Young Bobcats hope to make more history at state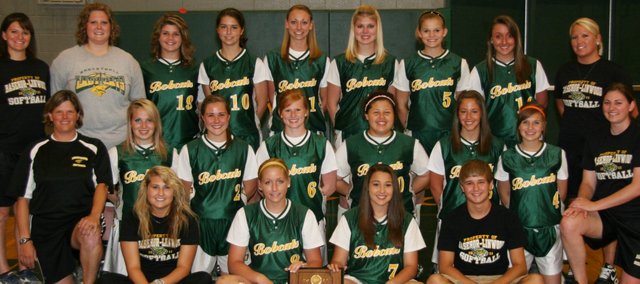 Nine first-year varsity players on this year's Basehor-Linwood softball team will make their state tournament debuts this week.
Last season, they watched from afar as Basehor-Linwood won the Class 4A state title. Some went to Salina and bought T-shirts to commemorate the state championship.
Some wore the T-shirts to summer weights.
"Nice shirts," coach Susan Mayberry recalls telling players who wore them to weights one day.
"Thanks, but we want to get our own," someone replied.
Yes, many of these players had older sisters who played for BLHS. They grew up watching Mayberry dance after wins. They watched the Bobcats scrap for runs, hits and victories. They wanted to be a part of the tradition and build on last year's success.
After winning the regional title last week, they will get that opportunity when they make their state tournament debuts on Friday. BLHS enters the Class 4A state tournament as defending champions and hopes to win another title.
The state newcomers will join state veterans such as Olivia Cowan, Shelby Pierce, Hannah Tush, Courtney Leive and Brooke Redmond. This is a team that has had to incorporate newcomers with solid returners, which was a change from last season.
"This year is an entirely different team of makeup, personality and team," Mayberry said. "They are very close with each other and they have a camaraderie and togetherness."
The Bobcats have played so well this season that Mayberry didn't feel like she had a young bunch.
"It didn't hit me until I was doing that, we had 14 kids on roster, nine first-year varsity players, two second-year, two three-year and one with four years," she said. "I knew we had a lot of freshman coming in, but I didn't realize that until I saw it on paper. They put a lot of work in adjusting to the level of expectations. We spent a lot of time working on correcting habits. They made a lot of progress the last couple weeks. It is amazing."
Improvement has made the state trip possible. Basehor-Linwood peaked at the right time this season and now enters the state tournament with a 16-7 record.
BLHS is the No. 8 seed and will play No. 1 Girard (23-0) at 5 p.m. Friday in Salina.
"It was a grind to get over that hump and smooth things out," Mayberry said. "My philosophy is to use the first third of the season to get used to playing with each other, understand offense and defensive strategies. The second third is to put it all together. The last third you have to let them play."
While they are the lowest seed in the tournament, Mayberry said the Bobcats have a lot of expectations for the state tournament.
"The girls are going down to come back with a first-place trophy," Mayberry said. "That is their plan. They know from being in the program and the first-year kids, they know how I operate the program. It's not all about softball; it's about the timing of having fun. We are going to go down and have a blast, but practice and try to win the tournament."
She also said having played in the tournament makes it easier for the older players to lead the younger ones.
"When the kids experience what they did last year, they are more comfortable with that situation," Mayberry said. "That experience has helped with emotion and desire. It is more excitement than nervousness. The way we practiced today, they have a plan to go down there and stay both days and get to the finals. It is not a 'happy to be there' type of thing."
A school pep rally was planned for Wednesday afternoon. BLHS leaves today for Salina.