Basehor-Linwood's Walcott closes season at state meet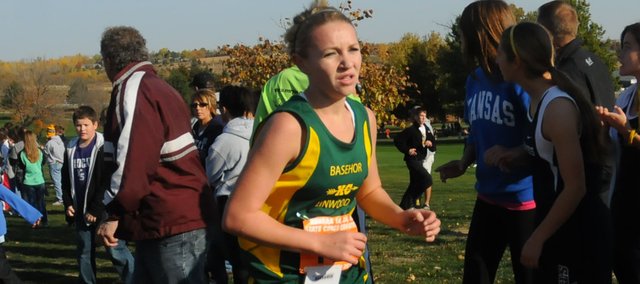 For a few moments Saturday at the Class 4A cross country state championships, Basehor-Linwood freshman Quinnlyn Walcott was the leader of the pack.
It wasn't youthful nerves that sent her surging to the front. Rather, it was all according to plan. The rolling hills and frequent hairpin turns on the Wamego Country Club course create a quick logjam for those who start too slow and ruin a race just as it's starting.
"Quinnlyn went out exactly as we planned," BLHS coach Jeff Venema said. "She's been doing that all season, and this was no time to change strategies. With the competition in the races, these are not runners who are easy to catch. Plus, there was a bottleneck spot about 100 meters from the start and she didn't want to get caught up. She stayed in front for approximately 200 meters."
Walcott was unable to hold the lead — although she wasn't expected to, either — and ultimately placed 40th in the 4K race in 16 minutes, 58.53 seconds. It was a little bit slower and farther back in the pack than she'd hoped to place, but the meet was a learning experience for Walcott.
"She was shooting for top 20, which would have earned her a medal," Venema said of Walcott. "I think she's capable of that. She's great on hills, and Wamego is a hilly course, but she needs to work on getting better on downhills and it showed."
Pratt senior Cheyenne Becker was the state champion in 15:19.95.
Venema said Walcott had a great week of practice leading up to the state championships, and he pointed out that a group of the BLHS boys runners came to practice and paced her to help her get ready.
During the race, she showed toughness and also learned where she stacked up among the top runners in the state. She was the eighth-fastest freshman finisher at the state championships.
Venema sees a bright future for Walcott as she tries to build off of her first trip to state.
"I believe that the reason she has so many in her corner is not her athleticism, which is at a high level, but because she's such a great human being," he said. "She's very easy to root for. I'm excited to see what she can achieve at Basehor-Linwood."
Baldwin won the team state championship with 65 points, Maize South was second with 91 and Paola finished third with 116. Other area teams that competed at state were De Soto (eighth) and St. James Academy (ninth).