New director takes helm at senior center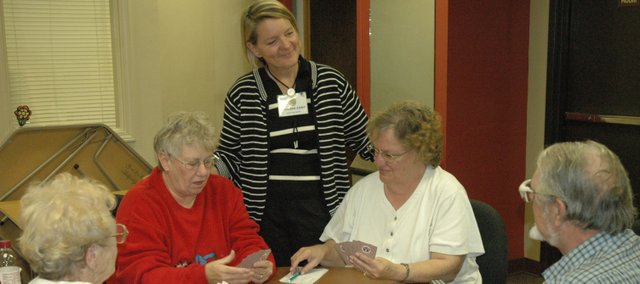 Seniors at the Bonner Springs Senior Center now have a new smiling face to help them organize their activities.
Gretchen Lister took over duties as the director of the senior center this week. She replaces Tina Ashford, who left to take a job at a nursing home.
Lister said the job was perfect for her, and she was looking forward to helping the seniors keep active.
Lister, who lives in Lawrence, has experience as a social worker, with a degree in liberal arts and a masters in social work, as well as a clinical license in psychotherapy. She has worked in the mental health field in the past but also has her real estate license and has experience buying, renovating and selling homes.
She had taken some time off from her career to raise her two sons, working part time every other weekend at Presbyterian Manor in Kansas City, Kan.
When her youngest son got into school, Lister decided it was time to find additional work and learned about the Bonner Springs position by looking in the newspaper.
"I just glanced at the classifieds, and there it was," she said. "The ad jumped out at me; it grabbed me, and I said, 'Gosh, this sounds like fun.'"
Lister, who describes herself as energetic and enthusiastic, said she loved small towns and enjoyed her experience in gerontology in the past, so the Bonner Springs Senior Center job was perfect. She said she was "ecstatic" when the city contacted her about taking the position.
She said she looks forward to working with seniors in a creative, active and fun capacity.
"I'm very, very fond of our elders; I think they have a lot to teach," she said.
Lister said she knows how well-loved the late Nancy Johnson was when she was the center's director, and that the seniors also had great affection for Ashford. So Lister will do her best to fill that roll and bring a new energy to the center.
"I think we'll explore as a group things they would like to add," she said, noting the former directors did a good job of keeping the seniors involved. "This is a very committed group of seniors, a very active group. I walked into a very full calendar and I realize the need for continuity. But we can sure add a little new flavor."
Though Tuesday was her first day in the senior center and she hadn't had much time to meet everyone, Lister said she already was impressed with the seniors she had met and how active even the eldest of the senior center members are.
Lister said she would continue Ashford's goals of enticing those on the younger end of the senior age spectrum to get more involved in the center's activities. But overall, Lister said she wouldn't bring on any big changes too fast.
"It's exciting," Lister said. "Obviously this place means a great deal to them, so we need to continue providing them a good service, give them the opportunity to connect, stay stimulated emotionally, mentally, physically — all those good things."