Start the press: Students revive
BLHS

newspaper with staff of four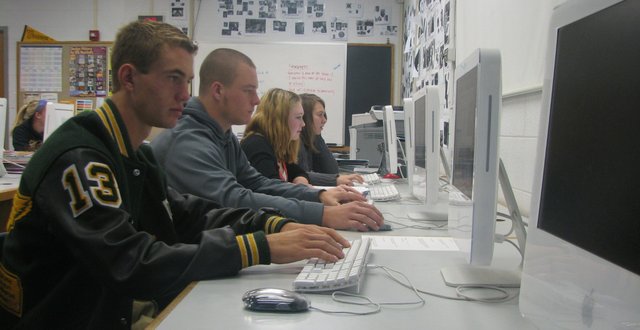 Earlier this school year, Maddy Mikinski would get some confused responses when she told people she was on the school newspaper staff.
"A lot of people, I tell them, 'Oh, I'm on the newspaper,' and they say, 'We still have a newspaper?'" said Mikinski, a junior at Basehor-Linwood High School.
Things changed this past Friday, though, when Mikinski and the three other staff members for the Express, the student newspaper at BLHS, distributed the paper's first print issue in about a year and a half.
Mikinski, the editor-in-chief of the Express, said the paper had languished after the school's previous journalism teacher left in fall 2010 and many of the students dropped the newspaper class soon afterward. This fall, the only experienced staff members remaining were her and junior Drew Potter, the newspaper's sports editor, she said.
Along with new writers Shelli Brannan and Trey Kincheloe, both juniors, Mikinski and Potter this year have launched "the Express 2.0," as Mikinski calls the rebooted publication.
Working under new journalism teacher Kristen Knoth, the students have posted stories on the newspaper's website, blhsnews.com, since the beginning of the school year.
Normally, Knoth said, staff members would go through an introductory journalism course before beginning to work for the Express. But to get things going again, the paper needed all the staff members it needed, and that meant the new writers would need to jump right in.
"I think our goal was to just try to take baby steps," Knoth said, "because you can't solve all the world's problems in one day."
Knoth said the stories in this first print issue represented the students' best work so far.
Kincheloe, who covers Kansas City-area news for the Express, agreed. He said the writers took more time for the print stories than they had for their online work, and his front-page story on the Bobcats' possible switch to the Frontier League was his favorite piece yet.
"It drew a lot more attention," Kincheloe said. "People actually came up and talked to me about it."
Brannan, who covers world and national stories, said she hadn't found it too challenging getting things started with such a small staff.
"It was fun to be in that one class that makes it come back," Brannan said.
Potter, a running back on the BLHS football team, said he tries to leave himself out of the story when he writes about sports. For the print issue, he wrote about some of the football team's traditions, including team dinners the night before each varsity game.
"I've liked it a lot," Potter said. "It's a chance to just relax during the day and just write."
Mikinski said she simply enjoyed publishing her work for others to see, both in print and on the web. She said she hopes to study journalism in college.
"I also like being able to Google myself, and my articles pop up," she said.
Knoth, who also teaches yearbook, photography and multimedia classes, said she hoped that the students would learn from the experience by getting out and talking to people, and learning to appreciate multiple perspectives. She said that in the future, she hopes to join forces with the school's broadcast class and form one online publication with videos and written stories.
"We've got a staff of four, so there's only room to grow from here," Knoth said.