Veterans find success, healing through writing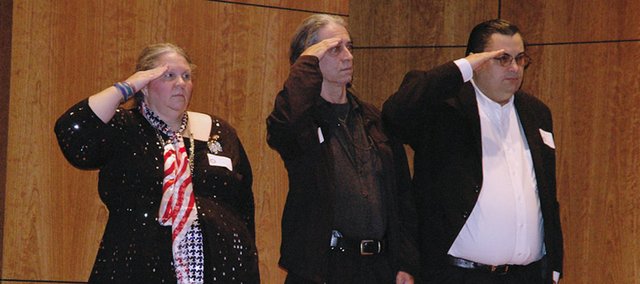 At first, putting words onto paper was one of the hardest exercises David Harrington of Kansas City, Kan., had ever undertaken — and this coming from someone who had served in the U.S. Navy during the Vietnam War.

"It was terrible at first," Harrington recalled, "raw images, impressions, feelings not organized into any conversational reading style."

Harrington began writing poetry while serving as an interior communications technician on the U.S.S. Decatur DDG-31, a guided missile destroyer, in 1970 during the Vietnam War. He says he "just had to write something" in response to almost-constant work demands that often only allowed for a few hours of sleep a night. After a near-disastrous fire broke out in the engine two room of the vessel, Harrington entered a dark period in his life.
"I began to feel just not right," he said. "Nightmares, flashbacks and anxiety. When you figure out how close you were to death because of a fire in an engine room … everything just changes."
Harrington says it was a combination of the fire and the workload on the Decatur that led to the post-traumatic stress disorder he was later diagnosed with. He credits his continued writing as a means of therapy for his recovery.
"I suppose the strongest bottom line statement I could give is I would not be in as good a shape as I am now and be able to socialize very well without it," Harrington said.

Harrington was one of three U.S. military veterans who shared their experiences Saturday, Oct. 29, during the Veterans' Pen Celebration at the National World War I Museum at Liberty Memorial in Kansas City, Mo. The event was organized by the Hospitalized Veterans Writing Project to commemorate its 65th year as a nonprofit organization. The Hospitalized Veterans Writing Project, which is headquartered in Mission, provides a therapeutic writing program for hospitalized or outpatient veterans. Through the organization's magazine, Veterans' Voices, veteran participants across the nation have the opportunity to see their writing published and become eligible to win cash awards.
Veterans' Voices is published three times a year and each issue features more than 100 veteran-penned works, said Deborah Dribben, Hospitalized Veterans Writing Project vice president. The hope of the project is that healing will come through creative expression. And Harrington, Leah Ann Jones, also of Kansas City, Kan., and Allen Yoakum of Liberty, Mo., said in speeches made during the Veterans' Pen Celebration they can testify to the healing power of the writing they have done through the program. All three have had works published in Veterans' Voices, and have won awards for those works, on more than one occasion.

An ailing Marine
Jones' first short story to appear in Veterans' Voices, "Whatever Lives Must Die," was published in 2004. She won a $50 prize.
"I was thrilled," Jones said of her accomplishment. Since then, several of her stories, all of them award winners, have been published.
Jones joined the U.S. Marines in 1977 and stayed there until her medical retirement 13 years later. She was diagnosed with bipolar disorder in 1991.
Jones describes her life in the 1980s and 1990s as resembling a horror novel by one of her favorite authors, Stephen King. Jones said she was the victim of spousal abuse and also mental and verbal abuse by senior members of the Marine Corps.

With counseling and the writing she has done through the Hospitalized Veterans Writing Project, Jones says she now has feelings of self-worth that had long eluded her.
"The Veterans' Voices magazine has helped me realize that I am somebody, somebody worthwhile," Jones, who is now working on an autobiography, said. "I like writing for the Veterans' Voices because other veterans can read what I write and I can read what they write. I am so thankful that the Veterans' Voices magazine has allowed me the freedom to express myself and be me."
Homeless no more
Yoakum also expressed the positive effects of writing for Veterans' Voices. He had long dreamed of becoming a published author. Like Jones, Yoakum was diagnosed as having bipolar disorder, after serving in the U.S. Army from 1991 until 1995. He was even homeless for two years.
Now he has achieved his dream, having had four of his works published, all of them award-winning, in Veterans' Voices.
Harrington said he didn't find out about the Hospitalized Veterans Writing Project or Veterans' Voices until 1990, but he "thought it was a great idea" at the time. He has been writing and submitting poems to the magazine ever since — several of them have been published and three of them have won awards.
He shared his heartfelt thanks to the HVWP for helping him find a way to come to grips with his past:
"I'm sure I speak for thousands of veterans over the years when I say I couldn't have done this without you."