BLHS

softball coach Mayberry wins

MLB

award for drug-free education efforts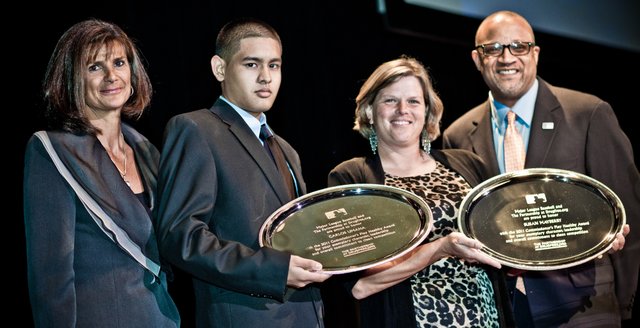 When Susan Mayberry took a health class in high school, she learned about the dangers of drug addiction by filling out worksheets.
Or, at least, that was the idea.
"I didn't learn anything," Mayberry said of her experience in that class.
Now that she's a health and physical education teacher at Basehor-Linwood High School, she tries to give her students a look at drugs and addiction that's more lively and relevant, she said. Last month, those efforts helped earn her a national honor and a trip to a $1,250-per-ticket gala fundraiser at the Waldorf-Astoria Hotel in New York City.
Mayberry, also the head softball coach at BLHS, was named a winner of the 2011 Commissioner's Play Healthy Award, given by The Partnership at Drugfree.org and Major League Baseball. The annual honor goes to one youth coach and one teen student-athlete from anywhere in the United States, Canada or Puerto Rico, who encourage people around them to be healthy and drug-free.
Mayberry received the award Oct. 18 at The Partnership's 25th Anniversary Gala in New York. At the black-tie gala event that raised nearly $2 million for the group, Mayberry sat among CEOs and owners of national corporations. She had never been to New York before, and the gala was the most extravagant, elegant event she'd ever seen, she said.
"It was like being a movie star," Mayberry said. "Every time I shook someone's hand, the flashbulbs were going off."
Mayberry, whose softball teams have won a state championship and six state tournament berths during her 15 years as coach, was nominated for the award by Ron Grover, a former Basehor-Linwood school board member who lives south of Basehor. Grover writes about his experiences as the parent of a recovered drug addict for the Drugfree.org website and on his own blog, "An Addict in Our Son's Bedroom."
Since spring of 2010, Grover has come to speak in Mayberry's health classes about his son's struggles with drug addiction. When he decided he wanted to share his story with high school students in the area, he said, he called around to five or six nearby school districts to see if they would be interested. Only one teacher, he said, responded with a "Yes": Mayberry.
"When Ron contacted our school, I jumped all over that," Mayberry said.
She remembered the rote worksheets her own health classes had used to address addiction, and how little people talked openly about drug abuse back then. And she remembered hearing her mother's stories about growing up in a family touched by alcoholism.
"I've seen how it can destroy a family," Mayberry said.
That reality demanded more than the same "Don't do drugs" speeches children had heard since grade school, she said. So she welcomed the chance to introduce students to someone who'd been touched by addiction personally.
Grover said that not only is Mayberry willing to discuss drug abuse and addiction openly and realistically with her students, but she does so from a place of concern rather than judgment. Last year, Grover's son, a BLHS graduate himself, came along to speak to Mayberry's classes about his addiction (he's been clean since summer 2010). He was only able to do that because he knew Mayberry, who taught his health class at BLHS, would not look down at him, Grover said.
"He said, 'I couldn't face any other teacher,' " Grover said.
In addition to her efforts with her health classes, Grover in his nomination also cited Mayberry's work this past spring in organizing the play "Under the Influence," which addressed drug and alcohol addiction and featured representatives from treatment groups available to help family struggling with addiction themselves.
David James, the director of Major League Baseball's Reviving Baseball in Inner Cities program, was a member of the judging panel for the Play Healthy award. He said Mayberry's efforts with the "Under the Influence" play were one thing that convinced the judges that Mayberry was devoted to reaching students, athletes and community members on the subject of addiction.
"It wasn't something that she took very lightly," James said. "This was really something that she had committed to."
James said he'd talked to Mayberry about meeting up next summer when the MLB All-Star Game comes to Kansas City, to talk about promoting softball in the KC area.
Grover said that, though there's no magic solution to the problem of addiction, leaders like Mayberry are the best weapon in that battle.
"It's going to take a lot of people doing a lot of little things," Grover said, "and she's doing the little things that matter."
Mayberry said the award was perhaps her proudest achievement. She said she couldn't wait to talk about the experience with her softball players and give them the souvenir keychains she'd bought for them in New York.
"I absolutely love working with young people," Mayberry said. "I think they need me, and I need them."