Kickapoo man, 96, to be honored as Leavenworth County's oldest living
WWII

veteran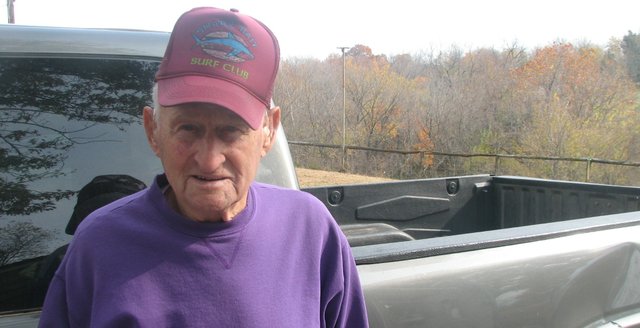 Veterans Day Parade
The Leavenworth County Veterans Day Parade, which organizers say is the oldest in the nation, will begin 10:30 a.m. Friday in downtown Leavenworth. For more on the parade, click here.
David Land had never heard his father talk about his time serving with the Army in the Pacific during World War II, save for the names of some cities and islands he'd been to.
"He's never, ever discussed much of anything at all, even though I've tried," David said.
He thought his father, Larry Land, now 96, had been a medic during the war, but that's about all he knew. He wasn't one to make a show out of his status as a veteran. So the son thought he knew the answer he would get when he asked his dad to ride with him in the Leavenworth County Veterans Day Parade this year, in an all-terrain vehicle painted with flames and adorned with a sign proclaiming him the oldest living World War II veteran in Leavenworth County.
"I knew he was going to say no," David said. "And danged if he didn't say, 'I would be honored.' "
Larry Land, who lives in the unincorporated area of Kickapoo northwest of Fort Leavenworth, said he thought it was good to be recognized for his war service. But he didn't understand why being the oldest WWII vet in the county was a cause for celebration, he said.
"My boy wanted me to ride in the parade with him, and I said yeah, I'd do that," Land said. "And he was going to make some kind of a silly sign, I guess."
He also said he doubted he was truly Leavenworth County's oldest WWII veteran.
"There's surely somebody out there that's older and uglier than I," Land said.
Jim Rodgers, the chairman for this year's Veterans Day Parade in Leavenworth, said there was no way of knowing if Land was truly the oldest living WWII vet in the county, even though he'll be honored with that title at the parade. But he was the oldest that the committee in charge of the parade could find, he said.
"There's not too many World War II veterans still around," Rodgers said, and the committee thought that finding the oldest living one would be a good way to pay homage to that group.
Since Land was discharged from the Army in 1946, he's completed a 23-year career as a firefighter at Fort Leavenworth and spent 42 years in retirement, spending his time farming, hunting and fishing. He had four children. In 1992, his wife of more than 50 years died. In 1995, he married his current wife, Ellen.
He's never belonged to a Veterans of Foreign Wars or American Legion post, or to any veterans organization, he said.
Land, a native of Iola, Ill., enlisted in the Army shortly after the Pearl Harbor attack in 1941 because it just seemed like the thing to do, he said. His service as a medic, mostly in the Philippines, during the war was just a matter of doing his job. He treated injured soldiers as well as Filipino civilians, he said.
"I don't think much, worry about, the time served in the Army," Land said. "No, it's just something we all had to do. Everybody was a veteran, almost."
His son, David, said his father rarely acknowledged the fact that he served in the war, and he certainly never gave any details.
"I don't know whether what he saw was more than he wants to remember," David said.
Larry Land remembered a few spare details about his time overseas in an interview with The Mirror. He remembered setting up a medical station in a large bank building in Manila, and spending several months serving as a chauffeur for a colonel. His clearest memory, he said, was of the day he received notice that he would be coming back home, where his wife, Margie, was waiting in the house where he still lives 65 years later.
Land said he was not one to glorify or romanticize war.
"I'm proud of what we done, understand," Land said. "But it'd have been better if we didn't have it."
His son David, though, said he felt his father was due to be recognized for his service, especially now that few World War II veterans remain and his advanced age makes him notable. Larry has ridden horses in the Veterans Day parade before, but he never signified himself as a veteran when doing so.
"I just wanted him to ride with me," David said, "because he had never been in the parade as a veteran."
David contacted the Leavenworth VFW Post about two months ago, he said, curious if his father might be the oldest WWII vet in the county. After searching for other older veterans and putting ads in local newspapers, the parade committee could not find anyone older, Rodgers said.
Larry does not know it yet, David said, but he will also be recognized at the reviewing stand at the parade's center.
Even if he downplays his service now, David said, he thought his father deserved the recognition. And secretly, he said, he thinks his father will be proud.
"He served his time," David said. "He served his country. And he came home."