Leavenworth County Veterans Day Parade set for 10:30 a.m. Friday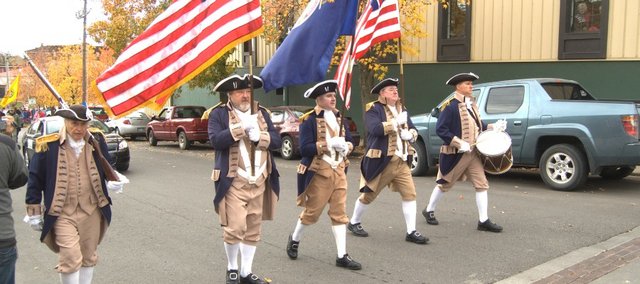 The Leavenworth County Veterans Day Parade will take place beginning at 10:30 a.m. Friday in downtown Leavenworth.
The parade's organizers say it is the oldest Veterans Day observance in the United States and the largest west of the Mississippi.
The parade's grand marshal this year is retired Brig. Gen. Stan Cherrie. Participants this year will include U.S. Sen. Jerry Moran and U.S. Rep. Lynn Jenkins; Maj. Gen. John Daveron, commander of the Kansas National Guard 35th Infantry Division; Buffalo Soldiers and Tuskegee Airmen; the mayors of Leavenworth and Tonganoxie and other state and local elected officials; veterans groups and fraternal organizations from the area; and many more individuals and groups.
The parade line will begin with bagpipers and the 15th Military Police Brigade Color Guard from Fort Leavenworth. At 11 a.m., the parade will pause for the playing of taps and a flyover by the Iowa Air National Guard. Following the flyover, an enlistment ceremony will take place in front of the reviewing stand at Seventh and Delaware streets.
The parade route will begin at Fourth and Cherokee streets, run east to Esplanade Street, north to Delaware Street, west to Seventh Street, south to Cherokee, then east to Fifth Street, where the parade will disband.
The Leavenworth Rotary Club will have its annual veterans breakfast from 7 to 10 a.m. Friday at the Riverfront Community Center, 123 S. Esplanade St. Cost is $6, and all disabled veterans can eat free. The Applebee's restaurant in Leavenworth, 2912 S. Fourth St., will have free lunch and dinner for all veterans. The Carroll Mansion, 1128 Fifth Ave., will have a special Veterans Day exhibit and a reception from 2 to 4 p.m. for military personnel and veterans.
Parade floats will be judged on their adherence to the parade's theme, "America — Thanks to Veterans," and on originality, creativity and patriotism. Anyone interested in participating in the parade can contact Diane Smith at dsmith8325@kc.rr.com or (913) 651-0410.
No parking will be allowed on the south side of Delaware Street from Esplanade to Seventh streets, and no vendor selling is allowed during the parade or staging.