Improv Festival of Kansas to be this weekend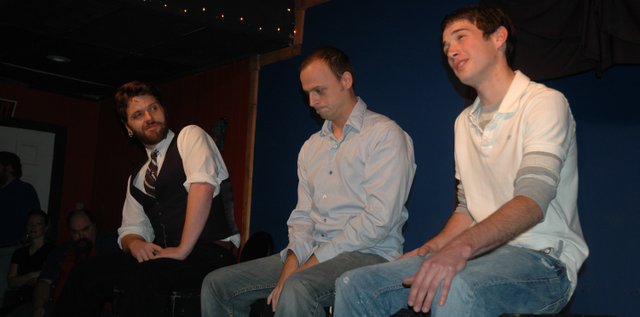 Rapping twins, the most awkward situation imaginable and discussions regarding the end of the world are just a few of the features to be found during this year's annual improvisational comedy festival at the Roving Imp Theater & Coffee House.
Now in its third year, the festival will feature new workshops, new comedy acts and even a new name. Formerly known as ImpFest, this year's festival is being called Improv Festival of Kansas.
"Because we're the only improv theater in Kansas, and I thought we should reflect that," John Robison, Roving Imp owner, said of the name change.
The 11 acts scheduled to perform throughout the festival hail from near and far, with several from the Kansas City metro area and a couple from as far away as Philadelphia and New York. Groups Robison says he's most excited about seeing over the weekend include TwinProv, from Oklahoma City, and Awkward, from Kansas City, Mo. Awkward is comprised of performers Trish Berrong and Joe Henley, who improvise awkward situations between males and females.
TwinProv is comprised of twin brothers Buck and Clint Vrazel, who do more than just improvised comedy routines.
"They do an improvised rap and they are twins," Robison said. "So two white boys from Oklahoma City that are twins do the most amazing improvised rap that you have ever heard of."
Also scheduled to perform is Babel Fish, a four-member group from Kansas City, Mo., whose comedy revolves around the end of the world, Robison said.
Teaching the majority of the workshops this year will be Kristen Schier and Amie Roe, both of whom are from Philadelphia and are members of the two-person improv group, The Amie & Kristen Show. Workshops will include "Listen Like a Therapist," which will help performers learn to listen to their scene partners onstage, and "I'll Take the Physical Challenge," which will show how body movements can be used to help create the character. The members of TwinProv will also teach a workshop on freestyle rap.
Workshop details, prices and times can be found online at rovingimp.com/ifok, though Robison said all the workshops are almost full.
Robision said his hopes for this year's festival are for more audience attendance and that audience members come away with a newfound respect for the level of comedy that is going on in Bonner Springs and throughout the country.
"I would love to have the people of Bonner Springs come and see these shows and see the quality of comedy that goes on around the country," he said. "It's not often we get that sort of thing here in town; the sort of top caliber talent and comedy. This is going to be better than what you would see at some of the big name comedy clubs in (the area)."
Improv Festival of Kansas kicks off at 7 p.m. today and runs through Sunday. Tickets, which can be purchased at the door, are $12 per show, $20 for up to three shows and $30 for all five shows. A full show schedule and more details are online at rovingimp.com/ifok.