'

Willy Wonka' musical brings familiar world to

BLHS

stage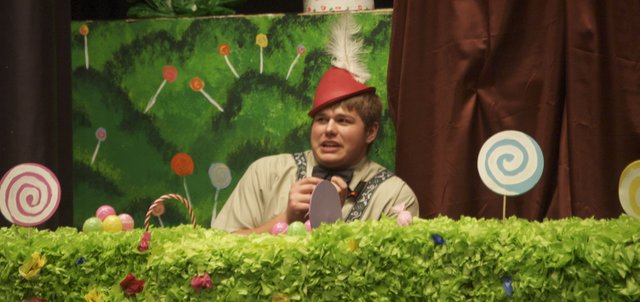 Photo Gallery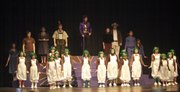 'Willy Wonka' musical at Basehor-Linwood High School
Performers and crew members in Basehor-Linwood High School's production of the musical "Willy Wonka and the Chocolate Factory" rehearsed Tuesday evening, two days before their first performance Thursday.
'Willy Wonka and the Chocolate Factory'
Performances: 7 p.m. Thursday, Friday and Saturday at Basehor-Linwood High School
Tickets: $5 for adults, $4 for students, children and seniors
The cast
Willy Wonka/Candy Man: Alexander Pedroza
Phineous Trout: Brooklyn Hogfoss
Charlie Bucket: Ethan Duffey
Mrs. Bucket: Heather Francis
Mr. Bucket: Patrick McKechnie
Grandma Josephine: Rachel Bennett
Grandma Georgina: Jessica Morris
Grandpa George: Caleb VanBeber
Grandpa Joe: Lucas Carmitchel
Augustus Gloop: Trevor Hickman
Mrs. Gloop: Sarah Jacobs
Veruca Salt: Hayley Webb
Mr. Salt: Tyler Fritts
Mike Teavee: Dylan Burton
Ms. Teavee: Danielle Ridder
Violet Beauregarde: Kellie Goss
Mrs. Beauregarde: Alexis Frank
Head Oompa Loompa: Danae Leppke
Oompa Loompa second-in-command: Chellcy Miller
Jaimie: Courtney Payne
Matilda: Alex Bright
High school chorus (Oompa Loompas, cooks and kids): Lindsey Laney, Danae Leppke, Allison Magana, Chellcy Miller, Courtney Payne, Alyssa Rucker, Lindsay Taylor
Pit orchestra: Alex Bright, Madison Howard, Sean Potter, Mary Beth Pedroza, Gabe Potter, Haley Stallbaumer, Rachel Suarez, Mario Vlasic, Matt Ogilvie
Squirrels: Carley Bernard, Grace Himpel, Mayzie Mangos, Abby Otten, Mila Seaton, Cohen Suchy
Cook chorus: Claudia Jacobs, Erin Laney, Ava Seaton, Abigail Shif, Riley Tinder
Oompa Loompa chorus: Tucker Dixon, Kaitlyn George, Haley Gallet, Nikki Jay, Riley Pembleton, Sierra Salazar, Isaiah Siegfreid, Alyssa Sitzmann, Britney Smith
After Ethan Duffey heard that Basehor-Linwood High School's musical this year would be "Willy Wonka and the Chocolate Factory," he thought it would be fun to play an Oompa Loompa.
Duffey, a senior at BLHS, had never acted before. So when he found out after his audition that he'd be playing the lead role of Charlie Bucket rather than one of the singing, diminutive factory workers, he was surprised.
"I had to transform from a creepy creature into a 5-year-old kid," Duffey said.
Performing alongside Duffey at the show, set for 7 p.m. Thursday, Friday and Saturday at the high school, will be senior Alexander Pedroza in the role of Willy Wonka. It will be Pedroza's third big role in a BLHS musical, after he portrayed the Cat in the Hat in "Seussical" in 2010 and Lumiere in "Beauty and the Beast" in 2009.
Director Rebecca Knowles said it had been fun to see the two actors work together.
"Alexander's furthering his acting and doing better than I've ever seen him act," Knowles said, "and then Ethan, coming from really no acting background, is just embracing the character."
Pedroza said Willy Wonka was a nice contrast to the previous characters he'd played.
"Now, I'm just a crazy person," he said. "It's pretty awesome. I like the variety."
He said his character was based on Gene Wilder's portrayal in the 1971 "Wonka" movie, though he leaned closer to Johnny Depp's character from the 2005 film version in some songs. The musical uses some material from both films, which were based on Roald Dahl's 1964 book "Charlie and the Chocolate Factory."
"It takes little bits and pieces from each, but it's its entirely own show," Pedroza said.
Junior Dylan Burton, who plays Mike Teavee in the show, said that the familiar source material would help make it a good family event.
"Kids will like it, and so will adults," Burton said. "It's, like, a classic."
Knowles said the show was the biggest, most complex production the school had put on. Students in a new play production class have designed and built a variety of elaborate sets, and about 20 middle-school and elementary-school students helped fill out the cast. Altogether, about 85 students have contributed to the show in one way or another, she said.
Senior Hayley Webb, who plays Veruca Salt in the musical, said she'd enjoyed working with the grade-schoolers, who play Oompa Loompas as well as a group of squirrels with whom Veruca has a run-in.
"I love how enthusiastic they are about their parts," Webb said. "They're out there, and they want to do a good job."
Tickets for "Willy Wonka and the Chocolate Factory" are $5 for adults and $4 for students, children and senior citizens. The show begins at 7 p.m. Thursday, Friday and Saturday, and doors to the BLHS auditorium will open at 6:30 each night.