Basehor-Linwood reflects on success after best season in school history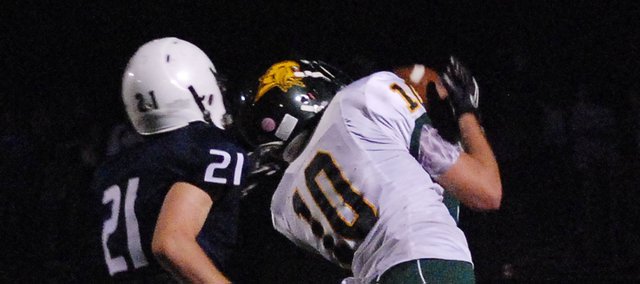 Jesse Hiss never thought about this day or what it would be like when the season was over.
For a solid year, Hiss and his fellow Basehor-Linwood football seniors had dedicated themselves to football and making a long run in the Class 4A state playoffs. The class wanted to go out by winning a state title.
After all, this was a team that electrified the field on Friday nights with Colin Murphy shredding opposing defenses with his pinpoint passes to Ryan Murphy and Ben Johnson.
After stretching the field with the passing game, the Bobcats would use Hiss and Drew Potter to pound the ball for rushing yards.
The Bobcats set numerous offensive team records throughout the season and won a third consecutive Kaw Valley League championship.
A senior class that posted a 27-4 record during the last three seasons and rewrote so much of the BLHS record book — save for a few rushing records — would trade it all for a state championship.
On defense, Hiss, Potter, Dalton Mellies and others anchored a hard-hitting squad that gave opponents fits all season.
The Bobcats started the year with 10 consecutive victories, including a first-round state playoff rout of Hiawatha. Just as the march to a title was beginning, it ended with a 28-21 loss to Eudora.
Naturally, Hiss never thought about the prologue to the story.
Last week, though, he was checking in his football equipment with his teammates.
"Yeah, it is a letdown. None of us expected to lose that night," Hiss said. "It hit us that it is all over. There would not be practice the next day or next week. We won't have another game ever."
He said it was difficult to turn in equipment for the final time.
"It was a little tough, the last time I would check that in and see those people as a team," Hiss said.
TIME TO REFLECT
Basehor-Linwood coach Steve Hopkins said this Bobcat team came close to reaching its potential. He knows only a state champion team is truly happy at the end of the season, and a lot can happen, but he said this BLHS team knocked on the proverbial door this season.
"I felt like we were in the mix this year. I really did," he said. "Only one team is happy at the end of the season. Unfortunately it was not our turn, but I feel we came close to reaching our potential. I can say that."
Hiss echoed those sentiments.
"It was disappointing to lose the last game," he said. "It's nothing to be upset about. We had the best record in school history. There's no shame in that, no complaining there. It was a year that I will remember for a long time. I had a lot of fun moments with those guys."
STATISTICALLY SPEAKING
While Hiss and his teammates had many memorable moments, the 2011 Bobcats and this year's seniors had unprecedented success at Basehor-Linwood.
"They are historic, that is the word I think of," Hopkins said. "They are the largest class in terms of students. Consequently, the largest we have to finish all the way through in high school."
In the past three years, Basehor-Linwood has compiled a 27-4 record and won three Kaw Valley League titles.
The Bobcats scored 470 points and allowed 171 points during the 2011 season.
Quarterback Colin Murphy completed 146 of 231 passes this season for 2,609 yards and 23 touchdowns. He also carried the football 93 times for 420 yards and 13 touchdowns.
In receptions, Ben Johnson had 56 catches for 954 yards and 12 touchdowns. Ryan Murphy had 49 receptions for 1,116 yards and eight touchdowns.
Rushing the football, Hiss carried it 76 times for 473 yards and nine touchdowns. Drew Potter rushed 95 times for 506 yards and 11 touchdowns.
On defense, Dalton Mellies had 127 tackles, averaging 11.5 tackles per game. Jesse Hiss had 80 tackles, averaging eight stops per game. Drew Potter had 76 tackles, averaging 6.9 tackles per game. Caleb Hiss and Zac Smith each had five interceptions.
"We really did play very well in the regular season," Hopkins said. "Winning the league for the third year in a row was big. Not going any deeper in the playoffs is disappointing, but it does not diminish what these young men accomplished."
In addition, what made the season special was how unselfish the players were and didn't really care who received the accolades, Hopkins said. The class also had a tremendous amount of work ethic.
"This group has raised the bar. They've set the bar high," Hopkins said. "Our underclassmen will have to work hard to achieve what they did. They raised the bar over the course of several years."
THE FUTURE
While the seniors now exit the program, the future looks bright. A class of juniors is ready to hit the weight room and dedicate everything they can for next season.
The younger classes have experienced a lot of success. They have learned to lead and seen the connection between hard work and success. Players plan to start lifting weights this week. They have goals and expectations to live up to now, because the last four years of success have changed the culture of Bobcat football.
"That is what we want to do year to year," Hopkins said. "We want kids to have high standards and expectations. We want to do work to get there. I think they've seen it up close, tasted it, and they are not interested in being average. They want to be an outstanding team."