BLHS

 standout Tush to play softball at Eastern New Mexico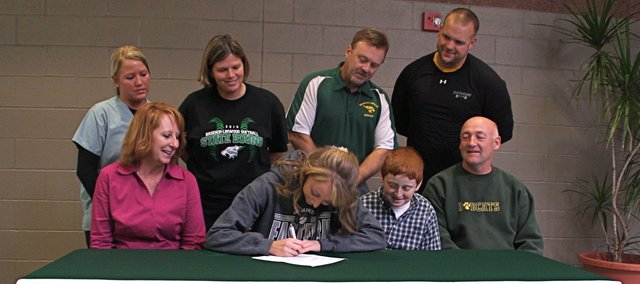 Hannah Tush has helped the Basehor-Linwood softball team win a lot of games over the last three seasons, earning individual recognition in the process.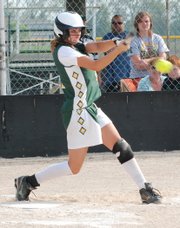 As a sophomore, she caught the final out in the Class 4A state tournament to clinch the state championship for the Bobcats.
During her junior year, Tush helped lead the Bobcats back to the state tournament and was an All-Kaw Valley League honoree at shortstop. In addition, she was named to the All-Metro and All-State teams.
The exemplary performances have been noticed by college coaches.
On Wednesday, Nov. 9, Tush signed a letter of intent to play college softball at Eastern New Mexico University in Portales, N.M. Eastern New Mexico is an NCAA Division II school with an enrollment of about 5,000 students. The city reminds Tush of Basehor, and that's part of the reason she chose the school over the University of Central Missouri.
"I am really excited about it," Tush said. "It was really stressful not knowing where I was going to go. I received an offer from Eastern New Mexico and it was a perfect fit for me."
Tush did not know much about the school until she started looking at options to play college softball.
She was doing an Internet search and found information on Eastern New Mexico's softball program. The school interested her and she sent them some information. The recruitment process took off from there, culminating with an on-campus visit in September, where an offer was extended for her to attend the school.
Tush signed the letter of intent last week, making her decision official. She expects to play in the outfield for the Greyhounds.
Tush said it is nice to have the recruiting process completed.
"It was kind of nerve-wracking," she said. "You don't know what college is going to want to talk to you. You send the tapes out and just hope for the best. That is what happened."
While the school might be far away from Basehor-Linwood, Tush said she is looking forward to the new challenge.
"It is going to be hard," she said. "I will miss my friends and everyone, but I think I will be OK. I like being on my own. I am ready for it."
In addition to feeling comfortable with the city, Tush said she also chose Eastern New Mexico because coach Lauren Sigwing reminds her of BLHS coach Susan Mayberry.
"Coach Mayberry has had a lot of effect on my softball career," Tush said. "She has taught me a lot and to be strong mentally. No other coach has taught me that. The coach there is a lot like that. I am excited because I like Mayberry's style. I like the coach at Eastern too. That is one of the main reasons that I picked it. The coaching styles are similar."
With the decision made, Tush is excited for her final high school softball season that is set to begin this spring.
"Oh yes, we are so excited and we are all ready now," she said. "The freshmen from last year are experienced now and they know what state is like. We have four seniors and we are ready and excited. We are pumped. We have all been there and we want to win it again."