Braves are better, now must get bigger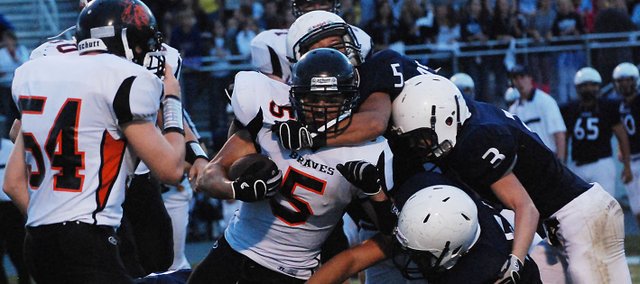 Asked if he considers his first season as Bonner Springs' head football coach a success, Lucas Aslin paused for a moment.
It depends how you define successful, he said.
"I think it was a good year," Aslin said. "We set a standard and did a lot of good things, but it all depends on how you want to define success. We won more games than we lost, so that was successful. We got better as the year went on, so that was a good thing, but we didn't finish the last game of the year like we wanted to, so that leaves a bitter taste in my mouth.
"It was a good year. The kids learned a lot, and we got better as the year went on. The kids got comfortable with us (coaches), and we got comfortable with the kids. We changed some things up, and they responded and played well."
Year one of the Aslin era was eventful, to say the least. The Braves opened the season with an upset victory of Topeka Seaman — an opponent that had crushed BSHS during each of the two previous seasons. A three-game losing streak followed as the Braves lost to Turner and the top two teams in the Kaw Valley League — Basehor-Linwood and Mill Valley. After that, Bonner Springs rattled off five straight victories and won the Class 5A District 1 championship before falling to powerhouse Gardner-Edgerton in the first round of the state playoffs.
The Braves ended the year with a 6-4 record and were tied for third in the KVL.
Overall, Aslin was pleased with the results. He admitted he wasn't sure what to expect when he arrived at BSHS. The biggest hurdle he said he encountered was how far behind the Braves were in terms of weight room development. Fortunately for Aslin, his duties as a physical education teacher also included leading the weight room classes at BSHS.
"Not only did some of them see me in practice, but also in the weight room, so that helped a lot," Aslin said. "It got uncomfortable for some of them early on because they weren't used to having the same guy in there (and coaching practice). It was different for them having the same guy do both."
Aslin said he was encouraged from the start by the amount of talent he saw among the players in the program. He had seniors who were eager and willing to lead, and underclassmen who wanted to work hard, get in the weight room and do what was necessary to improve.
"We walked into a situation where they've been well coached football-wise (by former coach Lew Kasselman), so that understanding was there," Aslin said. "The talent level was there. We just had to figure out where we thought it fit in and get it to work like I wanted it to work."
It took almost half the season, but once Aslin put the right pieces in place — he inserted sophomore Jordan Jackson into the lineup as the starting quarterback near midseason and shifted defensive players around, among other adjustments — the Braves were nearly unbeatable. They throttled lesser opponents like Bishop Ward and Tonganoxie. They slugged their way past a previously unbeaten Schlagle squad, crushed hapless Washington and pounced early on KVL rival Lansing.
Only powerhouse Gardner-Edgerton — which now is in the state semifinals — managed to stop the Braves. BSHS put up 33 of its 40 points on the Blazers' starting defense in a 76-40 season-ending loss.
The Braves had numerous statistical highlights this season. Jackson completed 82 of 139 passes for 1,393 yards, 17 touchdowns and just one interception. Favorite target Stevie Williams, a senior, hauled in 50 catches for 939 yards and 13 touchdowns, and senior running back J.J. Jackson had 21 catches for 203 yards and two touchdowns. In addition, senior receiver Joseph Dooley had 18 catches for 290 yards and two touchdowns.
J.J. Jackson did more than catch passes. He also rushed 217 times for 24 touchdowns and a BSHS single-season record 1,549 yards. Prentice Watson was the Braves' previous rushing king with his 1,471-yard campaign on 203 carries in 1996. Next on the list is Max Barren who compiled 1,324 yards on 266 carries in 2009.
Among the biggest losses for the Braves will be Williams and J.J. Jackson.
"Those two are the guys on paper that you look at that are going to be hard to replace. I don't know if you can," Aslin said. "It's going to take two guys to replace J.J., and it's going to take two guys to replace Stevie."
Jordan Jackson will be back at quarterback, though. So will up-and-comers like running back Jared Knernshield (36 carries, 203 yards) and receiver Mason Roberts (seven catches, 99 yards), and a slew of linemen who gained valuable experience this season.
Talent will return, but Aslin said the most important next step will take place in the offseason.
"Weight room," Aslin said. "You look at teams we lost to. Mill Valley was stronger than us. Basehor was stronger than us. Gardner-Edgerton was bigger and stronger than us. We've got to get bigger in the weight room. We're going to try to make it pretty uncomfortable for them to get them bigger in the weight room. Some guys have got to gain 10 or 15 pounds. Their development will depend on if we play only 20 kids next year or if we play a lot of kids.
"The teams we lost to that we need to try to beat to be better than 6-4 … to beat those kind of teams we've got to get bigger and stronger."