iTouches increase learning potential in classrooms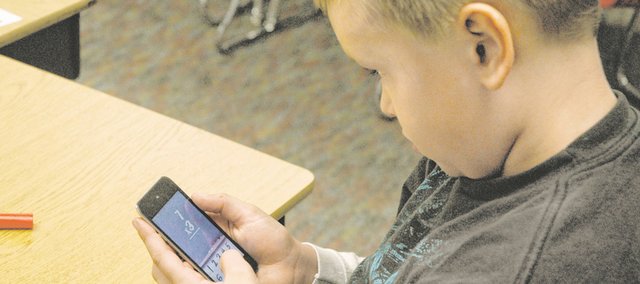 The students in Heather Casey's fourth-grade class were having a blast, competing to see who could score the highest.
What was surprising to Casey was that the Bonner Springs Elementary School students were showing such enthusiasm for math, a subject that is not usually this popular.
"They're doing their least-favorite thing now — division," she said. "They hate division. But they're all engaged, they're all having fun and practicing skills they'll need for a test next week."
The fourth-graders' interest in the subject was captured thanks to some new technology that can be found in each USD 204 elementary school this year: iPod Touches, portable media players with internet capabilities that students are using to access educational application programs. Teachers in all grade levels are finding the technological tools are helping engage students and enhance their learning.
Kelli Carr, second-grade teacher at Bonner Springs Elementary, said she has been using the Touches for the last month and a half during reading. The students listen to a story on the Touch and follow along in their books before going over the story again with Carr.
"It's more or less an opportunity for them to hear the story twice before being tested on it," Carr said, explaining that the use of the devices seems to have improved comprehension for many students. "That iPod just gets them to tune in and follow along with the story."
Amanda Ketterling, third-grade teacher at Bonner Springs Elementary, said she used the iPods during small group instruction in reading and math as a reinforcement activity. During reading, students enhance fluency and vocabulary with a context clue game.
"It gives the students a sentence with a vocabulary word bolded," she said. "They then use the context clues in the sentence to choose a word that means the same thing."
Ketterling also finds that addition, subtraction, multiplication and division games have done a great job of holding students' interest in math while still timing them and keeping track of their scores.
"They find this much more fun, rather than the usual paper-pencil timed tests we have given in the past to assist in memorization of facts," she said.
Rebecca Jones, the English as a second language teacher at Bonner Springs Elementary, said she uses the Touches pretty regularly, as well.
"The kindergartners use them to practice letter identification, and the first-graders practice sight words with them," she said. "We also practice some grammar with them in the upper grades."
While the teachers may be learning about the iTouches and how best to work them into lesson plans, the students have had no problem adapting to the technology.
"What's funny is they know how to use them better than I do, and I'm pretty tech-savvy," Casey said.