Chances of escapees remaining free are slim, past history shows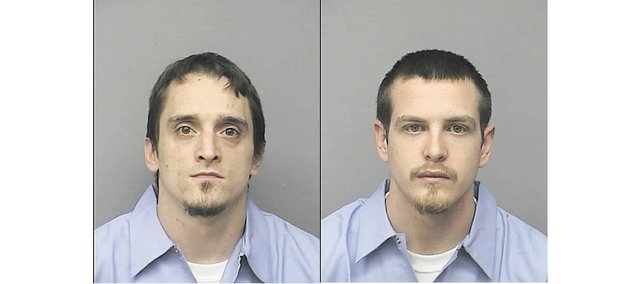 The odds of remaining free for long are against two Kansas inmates who escaped from the Lansing Correctional Facility Tuesday evening.
Chad Duane Amack, 22, and Matthew Glen Allender, 28, were reported missing from a minimum security unit at 6 p.m. Tuesday.
The two are the fourth Kansas inmates to escape this year, and the 99th and 100th since 2005. But only one of those escapees — Jose Ibanez, who walked away from a work release program at the El Dorado Correctional Facility in 2007 — hasn't been caught.
Another inmate, Ronny Dale Peters, also escaped from Lansing on Sept. 14 and was caught two days later.
"That seems to be the pattern," said Jan Lunsford, Kansas Department of Corrections spokesman, of the short length of freedom for many inmates — such as Peters — who escape.
Amack, serving a 23-month sentence for theft and burglary, was eligible for parole in March, and Allender, serving a 23-month sentence for two theft convictions, was eligible for parole in May. Add that to the poor odds of eluding capture and the increased prison time an escape can earn the two, and the incident seems puzzling to Lunsford.
"I'm amazed at these two in particular," Lunsford said. "Who knows what motivates (them)?"
Both Amack and Allender could face aggravated escape from custody charges, which is a level 8 nonperson felony in Kansas and could add about two years to their sentences.
Two Kansas escapees have eluded investigators and remained free for decades.
The state's longest running escaped Kansas inmate is Priscilla Ann Frey, who escaped on Christmas Eve in 1974 from a women's unit that used to be at the Lansing Correctional Facility.
The other is Randy Schmidt, who escaped with another inmate while working on the property at the state fairgrounds in Hutchinson on July 18, 1980. Schmidt, serving a sentence for rape and sodomy, drove a state dump truck off the property. Schmidt's escape partner was later arrested in Oklahoma, where he told investigators he split up with Schmidt.
Lunsford on Wednesday morning said he had no new information about Amack or Allender's escape. Amack and Allender are considered armed and dangerous.
Amack is a white male, 5-feet-9, 175 pounds, with green eyes and brown hair.
Allender is a white male, 5-feet-8, 180 pounds, with brown hair and brown eyes.
Anyone with information pertaining to their whereabouts should call 911 or the Lansing Correctional Facility at 913-727-3235.