Escapees captured in
KCK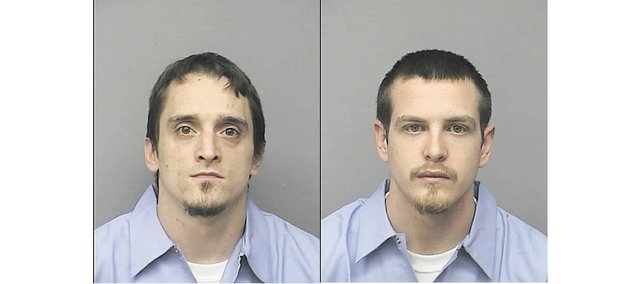 Two escapees from the Lansing Correctional Facility are back in custody.
Matthew Glen Allender and Chad Duane Amack turned themselves in about 10:30 p.m. Wednesday in the 900 block of North Fifth Street in the urban core of Kansas City, Kan.
Brett Peterson, communications coordinator for the Lansing Correctional Facility, said in a news release prison investigators had received information the two inmates were living on the street in Kansas City, Kan. Investigators, in turn, contacted the Kansas City, Kan., Police Department and special enforcement officers with the Kansas Department of Corrections.
When approached by officers, Allender and Amack turned themselves in and were apprehended without incident, said KCK Police Officer Brittanie Priutt.
Both Allender and Amack have been returned to Lansing and now face charges in Leavenworth County District Court for aggravated escape from custody.
The two were discovered missing about 6 p.m. Tuesday from the minimum-security unit at Lansing. Amack is a 22-year-old who is serving a 23-month sentence based on a Shawnee County conviction for theft and aggravated burglary. Allender, 28, is serving a 23-month sentence for two convictions of theft, also in Shawnee County. Both had been scheduled for release from prison in mid-2012.
Tuesday's prison break was the second in less than two months at Lansing. On Sept. 14, 33-year-old Ronny Dale Peters escaped from the minimum-security unit. He was captured two days later in Gardner.
Peterson said there were no similarities between the two incidents, but he declined to provide details.
"Their escape from custody remains under investigation and further details regarding this will not be released. The Lansing Correctional Facility feels that releasing this information could be detrimental to facility security," Peterson said.
Peterson indicated it was standard procedure for prison officials to review and critique escapes and take appropriate actions.