LCDC

director preaches importance of economic growth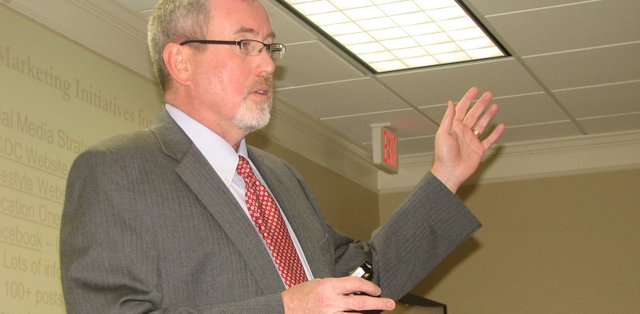 When Steve Jack thinks about why his economic development organization exists, he remembers one thing: ponds.
Jack said Thursday that, when explaining the purpose of the Leavenworth County Development Corporation, he has clung to a couple of sentences from a letter to the editor published in a 2006 issue of the Lawrence Journal-World.
"Towns are like ponds," the letter read. "They need fresh water or they stagnate and die."
Jack, speaking at a monthly Basehor Chamber of Commerce meeting at Community National Bank, said that maxim could be seen at work in 2010 Census data, which showed that fewer than 30 of Kansas' 105 counties managed to increase their populations between 2000 and 2010.
"There are a lot of counties and communities throughout the state of Kansas that tried to maintain what they had, and now they don't have it," said Jack, the executive director of LCDC.
For that reason, Jack said, attempts to keep a community the way it's always been can be a fool's errand.
"You like your community," Jack said. "It's a great community, so we want to keep it just the way it is," Jack said. "It's not that easy."
LCDC, which is partially funded by local government dollars, works in a number of different ways to promote the kind of economic growth that prevents stagnation in Leavenworth County, Jack said. Besides working to recruit businesses to come to the county, the group pushes for residents moving to the area to settle in Leavenworth County and works with existing businesses in order to keep them here.
Much of LCDC's efforts to attract new residents have concentrated on the web and social media, Jack said. Through a new lifestyle website (myLvCo.com) and its Facebook page, the group has tried to make the county more visible online as a possible home for people coming to the area for jobs at the new Veterans Affairs medical account center in Leavenworth, the future Cerner Corp. office in Kansas City, Kan., and other employers.
Information from the VA account center, which as of September had hired about 300 of a planned 425 jobs, showed that a handful of its employees had already decided to live in Basehor and Tonganoxie. Jack said that showed LCDC was working for all the county's cities.
"That's how it works," Jack said. "And that's why we're a countywide organization, because it's probably going to spill out into a positive impact on other communities."
The Basehor and Tonganoxie areas, Jack said, contained parcels of land that are the county's best candidates for companies looking to build large industrial facilities. But the drawback of those parcels, he said, is that they lack finished buildings or infrastructure. About 60 percent of the business prospects he speaks with, he said, want a building ready to move into.
"It puts us at a competitive disadvantage with some of the older parts of the metro area," Jack said, such as eastern Kansas City, Kan., where there are a number of large empty buildings left after their former companies departed for elsewhere.