'07-'08 seniors put Basehor girls basketball on the map
After leading Basehor-Linwood to state tourney, four Bobcats continued careers at college level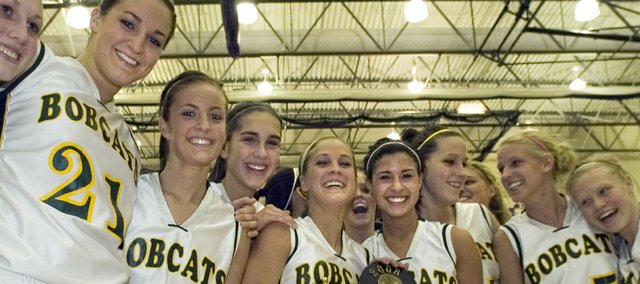 Cassie Lombardino, Brooke Sanders, Ashley Jeannin and Michelle Chrisman will be remembered as trendsetters in the Basehor-Linwood girl's basketball program.
Under first-year coach Noah Simpson, the group of seniors compiled a 22-2 record and played in the 2007-08 Class 4A basketball state tournament in Salina.
"That first group set the tone for expectations and what we wanted to become at Basehor-Linwood," Simpson said. "When we first came in, I said this is not a group that needs to be mediocre, this is a group that needs to be great. They were talented and hardworking, and it made for an unbelievable season that year."
Simpson's goal the first season was to raise the program's level of expectations.
Progress was seen early.
During the substate loss a year earlier, Tonganoxie handily defeated Basehor-Linwood. A coaching change took place after the season and Simpson was promoted from assistant to head coach, replacing Tami Holthus. In the season-opener the following season, Basehor-Linwood defeated Tonganoxie 67-42.
It was an emotional night for the Bobcats when a lot of things came full circle. Simpson's father had died unexpectedly of a heart attack on the night of the substate loss to Tonganoxie. A short time later, he got the head coaching position.
"Not long after that I got the position, it was true motivation because my dad lived to watch me coach," he said. "Now, to be head coach and him not be there, that was tough. I decided to do it through him, and make him proud."
The Bobcats put together the best single-season record in school history at 22-2 and lost in the first round at state.
"I remember losing and feeling like was over," Sanders recalled recently. "I didn't know if I was going to play. When that ended, it was very special.
The 2007-08 team changed the mindset of the program.
 "Before that, we had only had a few winning seasons," Simpson said. "It was the first time we won over 20 games. We have done that twice now. I think the mindset is totally different. The kids are focused and working hard."
While the seniors from that season have etched their names in the program's history books, they haven't left basketball behind.
Following the season, Lombardino, Sanders, Chrisman and Jeannin signed letters of intent to play college basketball. Lombardino signed to play at Washburn in Topeka. Sanders signed to play at Baker University in Baldwin. Chrisman signed to play at the University of St. Mary in Leavenworth. Jeannin signed to play at Grinnell College in Grinnell, Iowa.
Lombardino, Chrisman and Jeannin are still playing. Sanders spent three years on the Baker roster before leaving basketball behind to attend nursing school.
"It is fun to see them still playing, and it's a true testament to see them stick it out in college and fight through college basketball with it being a job," Simpson said. "They've turned it into something fun and something they're successful at. To have four kids from one class do that is a unique situation."
Ashley Jeannin
Jeannin is in her fourth year of playing at Grinnell College in the Midwest Conference. Grinnell is located in Grinnell, Iowa between Des Moines and Iowa City, which is a smaller school that boasts itself as one of the top liberal arts schools in the Midwest. Jeannin is majoring in Political Science and plans to eventually attend law school.
She is a two-time Academic All-Conference honoree.
Jeannin plays point guard for Grinnell, and through two games this season is averaging 5 points and 4 assists per game.
On Saturday, she returns to play in the Kansas City area when Grinnell plays Park University. The game will be her first in the area since she graduated.
"We are going to watch her play, because we have not had a chance to see her play since she left," Simpson said.
She expects a large contingent of her fans from Basehor to attend and watch the game that tips at 1 p.m.
"I haven't played there yet, but it's nice to have a home game," Jeannin said.
Playing close to home will be a highlight for Jeannin who said the majority of the team's games have taken place throughout the upper Midwest, but rarely in Kansas City. She hopes it is one highlight in a promising senior season.
"The last couple of years we have had a lot of first-year players and underclassmen, so this is the first year that we have had a lot of upperclassmen," she said. "I am excited because we do not lose many people. I think there are a lot of similarities (from my senior season at BLHS) this year. This is the first year we have had strong leadership, we had all the tools we needed and it all just came together. "
In general, she likes the lessons she has learned from playing basketball. She would recommend playing college basketball to anybody who wants to continue playing the game.
"It has taught me so much about life. You can take it beyond basketball and what it is in life," she said. "It's about working hard and dedicating yourself to something more because it is a bigger time commitment."
Michelle Chrisman
Chrisman is a guard for the University of St. Mary.
The Spires are 3-4 so far this season, and Chrisman is averaging 2.86 points per game.
As a junior, she averaged 3.48 points per game and served primarily as a 3-point specialist, making 25 of 71 attempts from beyond the arc including a 15-point effort on 5-for-8 shooting against Haskell and another 15-point performance against Bethel.
Chrisman has been successful off the court as well. She was recognized with the 2009-10 Kansas Collegiate Athletic Conference Champion of Character Award, an honor that goes to a student-athete who has a cumulative grade-point average of at least 3.0 and has demonstrated core values of respect, responsibility, integrity, sportsmanship and servant leadership. Then, she was named a 2010-11 Daktronics-NAIA Scholar-Athlete for posting a GPA of 3.5 or better.
Chrisman is pursuing a major in Biology at the University of St. Mary.
Brooke Sanders
Sanders misses playing basketball. She gave it up after three years to attend nursing school. Still, she had a blast playing basketball for Baker.
"I loved every second I was there and still miss playing," she said.
She was a talented point guard for Baker the last few seasons. She scored 17 points in her final game last season, which was a career-high.
While her career came to a close, Sanders said she had a great time playing in college despite the increased time commitment.
"It takes a lot more time just traveling and practice-wise, but I honestly loved the girls on my team and my coach," she said. "It wasn't like coach was my boss and I had teammates I didn't know. I was best friends and still talk with a lot of them."
Today, Sanders lives in Topeka with Lombardino.
Cassie Lombardino
Lombardino was the team's best and most heralded player coming out of high school. She anchored the post position for the Bobcats. Today, she plays basketball for powerhouse Washburn, an NCAA Division II team that is expected to contend for a national title. The Ichabods are 5-0 this season.
"We have a lot of good players that play and a lot of experience coming back," she said. "I think we will keep up in the standings."
Through seven games this season, Lombardino is averaging 9.9 points per game and shooting 44 percent from the field. She is shooting 68 percent from the foul line and averaging 6.8 rebounds per game.
Lombardino has worked diligently to develop as a college basketball player. She has worked hard to earn playing time for the MIAA power.
"I feel like just yesterday I was a freshman coming in," she said. "I look back and see that I have put in my time here. It is a different feeling to where it has gone by fast, but then again it hasn't.
"Last year was a different role from the past. We weren't extremely deep last year and a couple of us had to step up and play every game. We have so many that can actually play. I think it has helped us add more depth."
Lombardino said playing college basketball is what she expected it to be, and she appreciates the grind of it.
She also said it is fun to keep track of her old BLHS teammates and what they are doing.
"I grew up with those girls; I grew up playing with them," Lombardino said. "It was a lot of fun. I won't forget it."
Likewise, it is a class that will not be soon forgotten at Basehor-Linwood.