Basehor mayor responds to recall allegations in letter to voters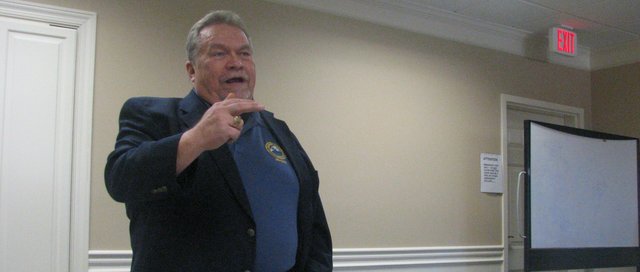 Related document
Related document
Basehor Mayor Terry Hill, in a letter addressed to Basehor residents that he shared with the Sentinel this past weekend, has responded to a recall petition submitted earlier this month, saying he did not fail in his duties as mayor as the petition alleged.
"It is my desire to dispel the confusion I understand has been created by the events of past weeks," Hill wrote.
Hill said he planned to mail the letter to all registered voters in Basehor, and that he would pay for the expenses himself.
The committee of petitioners who hope to recall Hill — Basehor residents Marilyn Townsend, Elaine Bundy and Bob Moore — accused the mayor of misuse of public funds in amending former city administrator Mark Loughry's contract to provide for additional health benefits; authorizing a severance payment for about $50,000 for Loughry in October without approval from the Basehor City Council; and purchasing, with his city credit card, two items worth more than $400 that were shipped to his home, as well as food at restaurants near his place of employment in Johnson County.
Regarding the handwritten addition to Loughry's contract providing for fully paid health insurance for his family, Hill said the entire city council had agreed to provide Loughry those benefits while negotiating with him in 2009. Loughry received similar benefits from his then-employer, the city of Hays, and would not have come to Basehor if he was not assured of a similar package, Hill wrote.
"Mark was understandably not interested in uprooting his life and lives of his family to leave a comfortable career in Hays without assurance from the City of Basehor that he would be compensated with comparable salary and benefits," Hill wrote.
Hill also said he told the city council about the handwritten "clarification" soon after he added it, and they accepted it "without issue."
In September, three members of the city council at that time — Dennis Mertz, Iris Dysart and Jim Washington — told the Sentinel they had never given consent for the city to pay for the entirety of health insurance for Loughry's family, nor for Hill to make the handwritten note on the contract.
In his letter, Hill also wrote that he believed Loughry's contract allowed the city to pay his family's insurance premiums even without his handwritten addition, because it stated that the city would pay the health insurance premium for Loughry and his family in the event they would be uninsured during his transition from Hays to Basehor.
"In no way can the contract be interpreted to mean once he acquired insurance in Basehor, his family would be dropped," Hill wrote.
Hill also defended his decision to authorize Loughry's severance payment, his purchases of a scanner and coffee maker that were noted by the recall petition and city-paid lunches near his Johnson County office that he said were for the purposes of discussing city-related business.
Hill's letter to Basehor voters is available at left, along with a shorter response he submitted to the Leavenworth County Clerk's office in response to the recall petition, subject to a 200-word limit.