Colin Murphy a finalist for Fontana Award
Colin Murphy, Basehor-Linwood's senior quarterback, has been named a finalist for the Fontana Award.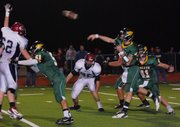 The Fontana Award, which is part of the annual Simone Awards, is awarded to the top small-class player in the Kansas City metro area.
Murphy completed 146 of 231 passes this season for 2,609 yards and 23 touchdowns. He also carried the ball for 420 yards and 13 touchdowns on 93 carries while leading BLHS to a 10-1 record.
Joining Murphy as finalists for the Fontana Award are Liberty (Mo.) North junior running back Antwynn Beavers, Platte County (Mo.) senior quarterback Krae Kelso, and Richmond (Mo.) senior running back Gabe Vandiver.
Murphy is the third BLHS player in three years to be involved with the Simone Awards ceremony. Twin brother Ryan Murphy, a wide receiver, was a finalist for the Otis Taylor Award in 2010 and former quarterback Brandon Leppke was a Fontana Award finalist in 2009.
The winner will be announced at the annual Simone Awards ceremony on Tuesday, Dec. 6, at the high school of the winner of the Simone Award. The Simone Award goes to the top large-class player in the metro area. Finalists for that award are Lee's Summit (Mo.) West offensive lineman Evan Boehm, Bishop Miege junior quarterback Montel Cozart, Blue Springs (Mo.) South senior quarterback Connor Harris and Staley (Mo.) senior running back Morgan Steward.