Foundation's $1,200 grant goes to 'Nook books' for Basehor kindergartners, first-graders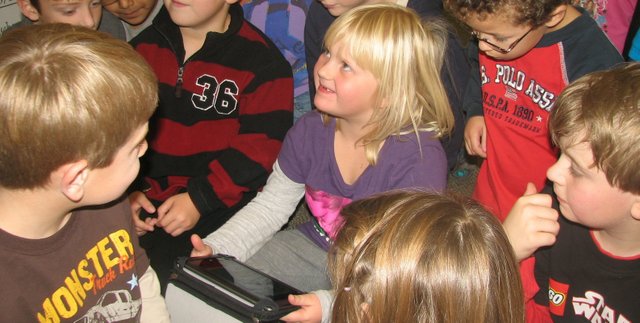 USD 458 teacher grants
The recipients of 2011-2012 Teacher Incentive Grants from the Basehor-Linwood Education Foundation (teacher, school: program name, grant amount):
• Amy Scruggs and Cynthia Fletcher, Basehor Elementary School: Classroom Library for 21st Century Students, $613.86 each
• Nancy Jones, BES/Basehor Intermediate School: Whacking and Learning, $316.90
• Curtis Westbrook, Basehor-Linwood High School: Band video camera, $500
• Erin Foley, Basehor-Linwood Middle School: Kindness Unites Us, $100
• Juli Brown, BLMS: Reading Replacement and Enhancement, $300
• Shelly Journey, BLMS: Reading Resources and New Functional Living Room Materials, $200
• Devon Hale, Glenwood Ridge Elementary School: Kidspiration 3, $825
• Second-grade teachers, GRES: Literature Set Enhancement, $407
• Michelle Riffel, Linwood Elementary School: Base Ten Blocks, $400
• Jayne Hopkins, LES: E-books, $254.66
• Barb Forbes, LES: Promethean Flipcharts Developed By Publishers, $300
• Lynn Sweeney, LES: Ticket to Read, $525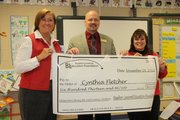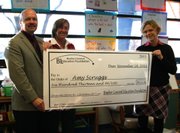 All it really took to get Amy Scruggs' kindergartners fired up on Monday was the sight of two visitors coming into their classroom with a five-foot-long check.
But when they found out the check would buy them some new digital goodies that they'd never seen before, their eyes really popped, Scruggs said.
"They were excited about the check, just because somebody different came in with a large check," said Scruggs, who teaches kindergarten at Basehor Elementary School. "Then when I told them what it was, they were really excited."
The check, which was made out to Scruggs and delivered by Basehor-Linwood Superintendent David Howard and BES principal Teri Boyd, was for $613.86 — or, as kindergartner Mason Kuntz put it, "like, a hundred thousand tons" of money. An identical check went to BES first-grade teacher Cynthia Fletcher, and together the two are using the funds on four touchscreen tablet devices they say will open new possibilities for their students to read, learn and have some fun.
The $1,200 in funding came from the Basehor-Linwood Education Foundation, which on Monday announced 13 grants to be awarded to teachers in the Basehor-Linwood school district, worth about $5,300 combined.
With their grants, Scruggs and Fletcher are purchasing four Barnes & Noble Nook Color tablets, which sell for $200 each on barnesandnoble.com, and e-books and applications with which to stock them. The two got the idea earlier this year after Scruggs received a Nook Color for her birthday and got to thinking about its possibilities in the classroom, Scruggs said.
Perhaps the biggest benefit of the devices will be the interactive children's e-books they offer, Fletcher said. The books give the students the option of reading on their own or listening as the device reads to them, which Fletcher said should allow the students to make their way through trickier, higher-level books than they could read on paper.
"Instead of just sitting and reading a book, they're going to be able to actually interact with it," Fletcher said.
And the interactive books' bright animated colors and sounds will give reading some additional attraction, she said.
"It's given them another avenue, another way to get interested in books," Fletcher said.
On Tuesday, Fletcher showed her students Scruggs' Nook to give them a preview of what they'd be getting. When she asked the first-graders what they thought, they responded nearly in unison: "Coooool!"
"It's like lots of books inside a computer," first-grader Braeden Schnabel said while the class discussed what the tablets could do.
Fletcher said she'd told her students about the possibility of purchasing the tablets months ago when she was applying for the grant from BLEF, and they've been waiting in anticipation since. Scruggs, though, waited until Monday, when Howard and Boyd came to class with the giant check, to tell the kindergartners about the project.
The two teachers plan to combine their classes for a book club where students can discuss what they've read on the tablets, they said. Fletcher said the first-graders may use an application to publish their writing online, while kindergartners will likely use some phonics and alphabet learning apps to work on their reading skills, Scruggs said.
By the end of the day Monday, the two teachers had already ordered their Nooks online. Scruggs said hers should arrive by the end of the week.
BES first-grader Brianna Shaver said she was happy the "Nook books" were coming.
"You can read by yourself, and then you can make sure you get that book right," Brianna said.
Kindergartner Gunnar Scrivener said he'd never seen one of the devices before, but he was excited to see what they were all about.
"They sound fun," Gunnar said.