Earp Distribution officially opens its doors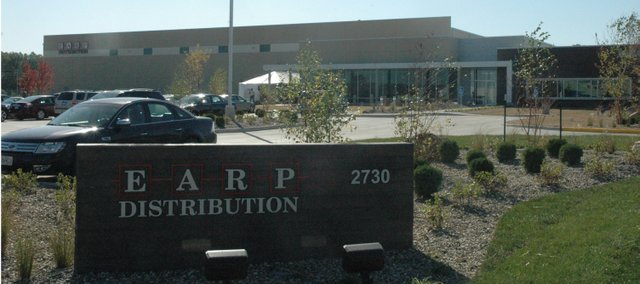 It took the right amount of timing and local officials working together to bring Earp Distribution to Edwardsville and allow it to build its new $24 million, 184,000 square-foot facility.
"I don't think we could've done this five years earlier or five years from now," Cliff Earp, owner and chairman of the company, said. "Everything fell into place at the right place and right time."
Photo Gallery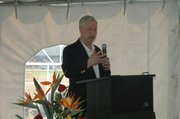 Earp Distribution's grand opening
Earp Distribution had a grand opening ceremony Monday for its new $24 million, 184,000 square-foot building in Edwardsville. Preceeding and following the ceremony, attendees were able to take tours of the new facility, which supplies food and other materials to McDonald's and Chipotle restaurants in a six-state area.
The company, which delivers frozen, refrigerated, dry and promotional products to 420 McDonalds and 65 Chipotle restaurants within a six-state region, celebrated the grand opening Monday with an event at the new facility, welcoming McDonald's officials and local dignitaries.
The business was founded by Earp's grandmother as a fresh meat provider for Kansas City restaurants like Gates Bar-B-Q. In 1962, Earp said a coffee salesman referred the company to a new fast food restaurant in town, and the company's partnership with McDonald's began.
"We live this business on a handshake," Earp said of the friendly and informal relationship with McDonald's. "This is all built on a handshake — 50 years on a handshake."
McDonald's officials, like Susan Forsell, vice president of quality systems, and Chip McGeehan, an owner/operator and chair of the Purchasing Committee, praised the dependability and quality found at Earp.
"You share our values and you do what it takes to help build our brand," Forsell said.
Earp employee Angelo Mino, who served as emcee of the event, noted that the Earp family included all 227 employees and their families, who had worked to get the company to this point and would continue to help it grow.
"We're not done yet," he said. "It has not been seen yet what Earp Distribution can do for McDonald's and Chipotle."
Watch for more information about Earp's grand opening in this week's edition of The Chieftain.