Basehor-Linwood runners split up, take on top competition in area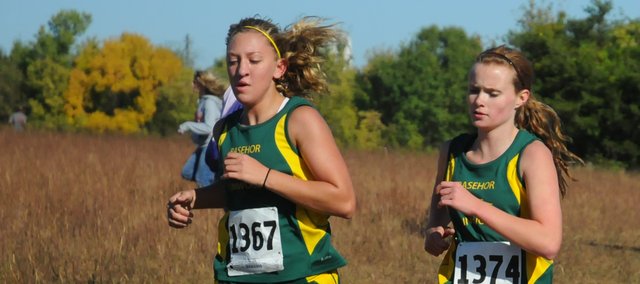 With a goal of preparing for races later in the season, members of the Basehor-Linwood cross country team split up last week to compete in two different races.
The fastest Bobcats competed Saturday at the Kansas City Metro Championships at Raymore (Mo.) Peculiar High School against the top competition in the area.
"The runners tried hard, but the competition was top-shelf," BLHS coach Jeff Venema said.
In the boys' race, senior Jonathan Oliva finished 97th of 230 runners, with a time of 17 minutes, 41 seconds. In the girls' race, freshman Quinlynn Walcott finished 96th of 215 runners with a time of 21:01 and sophomore Ally Laney finished right behind her in 21:03.
Venema said it was a nice midseason test for his top runners. He hopes that it will give them confidence in future races.
"Well, it was humbling, that's for sure," he said. "But it also shows our runners that they can compete with anyone."
Venema said the race will be good preparation for the Kaw Valley League and regional meets at the season's end.
"It was a very good facsimile of the bigger meets we have coming up," he said. "It was a great chance to practice it."
The rest of the Basehor-Linwood runners competed Saturday at the CommunityAmerica Invitational in Baldwin.
In the boys' race, Tanner Tavis finished in 37th place with a time of 18:06 to lead the boys to an eighth-place finish in the team standings. Mark Vitt finished 46th in 18:34. Luke McGowan was 49th with a time of 18:42. Casey Jones took 51st with a time of 18:51.
In the girls' race, Haley Stallbaumer placed 39th with a time of 17:33 to lead the team to a sixth-place finish. Keristen Lindelof was 43rd in 17:57.06 and Sara Rehm finished 51st with a time of 18:43.76. Rebecca Carroll placed 54th with a time of 18:54.09.
With runners competing in two different venues, Venema said it was a different feel for the team. Final team standings weren't a good indicator of how the squad did.
"Absolutely, it's really strange and everyone feels incomplete; it really shows how much cross country is a team spot," he said.
Now, the Bobcats are turning their focus to the postseason. They race at 4 p.m. today at the Pleasant Ridge Invitational, and then race Oct. 13 at the KVL Championships. After that is the regional meet and, if all goes well, the state championships.
"As usual, we're in the most difficult regional in the state," Venema said. "It's entirely possible that we'll make it through an entire season without a lot of people knowing that we're pretty good.  But we'll know."