Third-grader lays groundwork to be famous like Miley Cyrus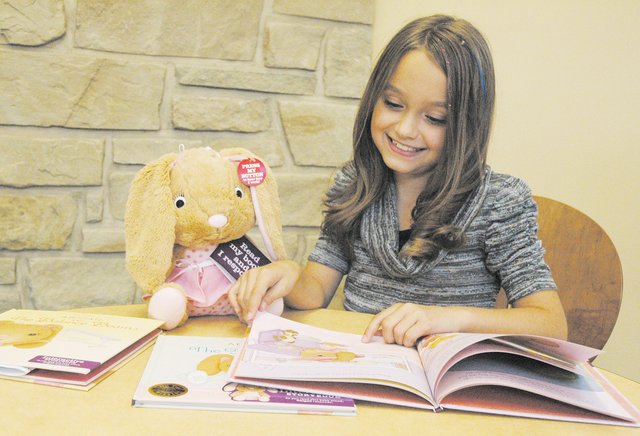 Stella Harrington's model for whom she wants to be like one day has long brown hair, is adored by preteens the world over for pop songs like "Party in the U.S.A." and sometimes goes by the name of Hannah Montana.
Stella, an outgoing 8-year-old in the third grade at Basehor Intermediate School, says her friends tell her that her dream of being famous like Miley Cyrus is "crazy." But Stella is adamant that one day she wants to be an actress appearing on the cover of magazines or starring in her own television series just like her idol.
"I watched her a lot when I was little, and I always wanted to be on her show," Stella said. "Everyone thought I was crazy because they thought, like, they said, 'You're never going to be on TV like that. They said it's once in a lifetime.' I said, 'I know, but I still think it'd be cool.'"
On a small scale, Stella is taking steps to achieve her goal. In the summer of 2010, she auditioned for and earned a paid job doing voice work for a series of books in Hallmark's Interactive Storybooks & Story Buddies collection. Each series in the collection comes with a "story buddy," or stuffed animal, that responds to the reader's voice as the books are read out loud. Stella won the part as the voice of Abigail The Bunny. Abigail is the main character in a series of three books: "Abigail And The Balance Beam," "Abigail And The Tea Party," and "Abigail And The Lost Purse."
The books were released by Hallmark earlier this year.
As certain sentences, highlighted in color, are read out loud, Abigail The Bunny, with Stella's voice, chimes in with sentences and phrases that enhance the story telling. At times, Stella's distinctive laugh can be heard, as well.
The recording process
Stella's father, Brad Harrington, says his daughter recorded the lines for all three books in one afternoon in the summer of 2010 at Hallmark's corporate headquarters in the Crown Center area of Kansas City, Mo.
"Maybe about three or four times," Brad Harrington said of how many times Stella had to read her lines during the recording process. "They wanted the fluctuation of her voice to be how they wanted it. They wanted it right."
Stella's favorite memories of her recording session at Hallmark are that the door of the sound booth opened and looked like the door of a refrigerator. She also said she liked the way the producers got her to laugh for the recording. One producer, she remembers, went so far as to stick a pencil up his nose.
"It was fun because all the stuff that they made me laugh about was really funny," Stella said.
Then came the long-awaited day — about 10 months after Stella's recording session at Hallmark — when the Harrington family finally found the Abigail book series in a Hallmark store.
Stella's first reaction upon hearing her voice coming out of a stuffed bunny?
"I froze and I was shocked," she said. "I was so excited because … whenever I thought of it, I thought it was going to be totally different than what I expected. I thought they would change (my voice) up a little bit, but they didn't."
Young thespian in the making
Recording her voice for Abigail The Bunny wasn't Stella's first time at the rodeo. She has been doing commercials, print ads and voice over work for Hallmark, Walmart and the Kansas City Zoo, among others, for several years. Stella's mom, Carrie Harrington, got Stella signed up with the Overland Park-based talent agency Exposure Model & Talent when Stella was 4 years old because, as Carrie said, "everybody kept telling us … how beautiful she was and that she should be in commercials and all that."
Carrie says, being a cautious mom, she was hesitant to get Stella signed up with the talent agency at first, but Stella's enthusiasm for the idea won her over. Stella's first job was a print ad for Hallmark, "and then, ever since then, she's loved it," Carrie said.
Carrie later got Stella's younger brother, Lake, signed up with the agency, as well. He has been busy doing commercials just like his big sister.
"They get to asking when their next audition is," Carrie said of her ambitious young children.
Paying it forward
With the financial assistance of her grandparents, John and Connie Harrington, who purchased two sets of the Abigail series, Stella recently donated one set to the Bonner Springs City Library and one to the Basehor Community Library. Stella says she wanted to make the gift because it's a fun way to get youths interested in reading. She says, outside of preparing for her future career as the next Miley Cyrus, reading is one of her favorite activities.
"I thought it'd be nice and some kids that don't know how to read, they can read with their parents and it'll encourage them to read," Stella said. "I think some kids might think (the bunny) is, like, real or alive or something and try to talk to it."
And, as she said, who wouldn't want to read with a talking bunny?