The unofficial Kaw Valley League championship game between Basehor-Linwood and Mill Valley was on course to be a down-to-the-wire thriller for the second straight season until a wild four-minute span of the second quarter blew the game wide open.
Photo Gallery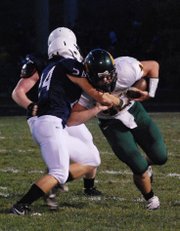 Basehor-Linwood scored three touchdowns during that time, and Mill Valley spent the rest of the night trying to play catch-up as the Bobcats rolled to a 42-21 victory Friday at Jaguar Stadium.
"I think we practiced (this week) better than we ever have before this season, so I thought we were going to come out pretty good," BLHS senior quarterback Colin Murphy said. "But I didn't think we were going to be up 27-7 at half."
Yes, the Bobcats seized control early thanks to big plays by the offense and a lock-down effort by the defense.
Basehor-Linwood marched 80 yards on 12 plays and needed a little less than four minutes to take a 7-0 lead in the first quarter as the Bobcats utilized a run-heavy offense that was anchored by running back Drew Potter and Murphy. Murphy capped the drive with a 2-yard QB sneak.
The Bobcats had an opportunity to take full control moments later as they forced the Jaguars into a three-and-out deep in their own territory, but a roughing the kicker penalty on the Mill Valley punt gave the Jaguars new life. They were unable to capitalize on the opportunity, but they did even the score on their second possession when quarterback Skyler Windmiller connected with Staton Rebeck on a short slant. Rebeck spun through a tackle and raced 55 yards for a game-tying touchdown with 2:24 left in the first quarter.
A botched punt by Mill Valley on its next possession set the stage for Basehor-Linwood's offensive eruption. Windmiller's punt netted just 14 yards and gave BLHS first down on the MVHS 28. Three plays later, Murphy connected with Ben Johnson for a 24-yard touchdown. The 2-point conversion attempt failed, but the Jaguars led 13-7 with 9:17 left in the second quarter.
Following another Mill Valley punt, BLHS used a first-play strike as Murphy tossed the ball to Skylar Ross on an option to the right. Ross cut back through the middle, broke into the open field and turned on the jets for a 64-yard touchdown run. Murphy threw to Johnson for the 2-point conversion, and BLHS led 21-7 with 7:28 left in the quarter.
After a Mill Valley three-and-out, more punting woes plagued the Jaguars. This time, L.J. Hatch's punt got caught in the wind and then took a bad bounce for only a 1-yard change. After two short running plays, the Bobcats found the end zone again as Murphy rolled to his right and unleashed a bomb to the end zone that twin brother Ryan Murphy hauled in with an over-the-shoulder grab for a 39-yard touchdown. The extra point missed, but the Bobcats' lead was at 27-7.
"I expect him to make that catch," Colin Murphy said matter-of-factly about his brother's highlight-reel grab.
Neither team scored the rest of the half.
"We made some silly mistakes against a great team, and you can't do that," MVHS coach Joel Applebee said. "They're a very good team; very well coached. They've got some great athletes over there, and you can't make mistakes against a team like that. We threw some bad balls, we didn't catch some good balls, we didn't have some good pass protection, we gave up some big runs and pass plays. Those kinds of breakdowns you can't have against a great team."
Mill Valley's chances of mounting a second-half rally took a quick hit on the opening kickoff of the third quarter. Basehor-Linwood's Dan Engel dislodged the ball from Rebeck and Alex Jackson pounced on it. BLHS had first-and-10 at the 12 just six seconds into the second half. Four plays later, Colin Murphy scored on a 1-yard sneak. He then threw to Johnson for the 2-point conversion and gave BLHS a 35-7 lead.
"I had a dream about Alex Jackson and Dan Engel," Basehor-Linwood coach Steve Hopkins said. "I told the kids that before the game. I said, 'Someone's going to make a great play tonight who's not a starter on offense and defense.' The kids got a little wide-eyed when it happened to start the third quarter."
Mill Valley began to find a rhythm after that, but it was too little too late.
Windmiller threw a 58-yard touchdown to Wade Hanna on the ensuing possession. Then, after a Basehor punt, the Jaguars marched 48 yards on 11 plays and scored on a 17-yard pass from Windmiller to Ethan Rice. That pulled MVHS within 35-21 with 3:44 left in the third quarter.
The Jaguars would get no closer.
"For the most part I was very proud of our kids the way they came back and played the second half," Applebee said. "They fought really well. We've got a long ways to go still, but we're going to continue to work to get where we need to be."
Basehor-Linwood's defense held firm and forced the Jaguars' final drive of the quarter to stall out. The Bobcats then whittled nearly four minutes off the fourth-quarter clock before Jesse Hiss scored on a 3-yard run. The Bobcats led 42-21 with 8:03 to go. MVHS went three-and-out on the ensuing possession and then Basehor-Linwood salted away the victory with an 11-play drive consisting of all running plays.
Colin Murphy completed 10 of 21 passes for 200 yards and two touchdowns. He also rushed 12 times for 44 yards and a TD. Ryan Murphy had three catches for 89 yards and a touchdown, and Johnson caught four passes for 101 yards and a touchdown. Ross rushed nine times for 82 yards and a TD.
Windmiller led Mill Valley by completing 15 of 30 passes for 243 yards and three touchdowns. He also rushed 13 times for 44 yards. Rebeck had six catches for 86 yards.
Mill Valley (5-1) next plays at 7 p.m. Friday at home against Bishop Miege in the first game of Class 5A district play.
Basehor-Linwood (6-0) returns to action at 7 p.m. Friday at home against Jefferson County West in the Bobcats' Class 4A district opener.