Hunt for missing baby moves into Shawnee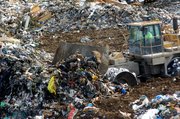 Law enforcement authorities today were searching the Johnson County Landfill, located in Shawnee, for a baby reported missing out of Kansas City, Mo.
Tom Coffman of Deffenbaugh Industries, which owns and operates the landfill at Interstate 435 and Holliday Drive, confirmed that authorities were on site looking for the child. Coffman said Deffenbaugh was not allowing members of the media onto the property, although television news crews were filming the search via helicopter.
An FBI spokeswoman told local media that today is the second landfill search, with the first being the day Lisa Irwin, 10 months, was reported missing.
Lisa's parents reported her missing from their home in the 3600 block of North Lister Avenue on Tuesday, according to local media reports. Authorities issued an Amber Alert that day and continue following leads to find the child.
The case has gained nationwide attention, with Lisa's parents granting interviews on "Good Morning America" and the "Today" show Thursday morning.
Coffman said that while the landfill has been searched many times over the years in connection to various criminal cases, no bodies have been found there.