2nd year of 3rd Street Asylum scarier than ever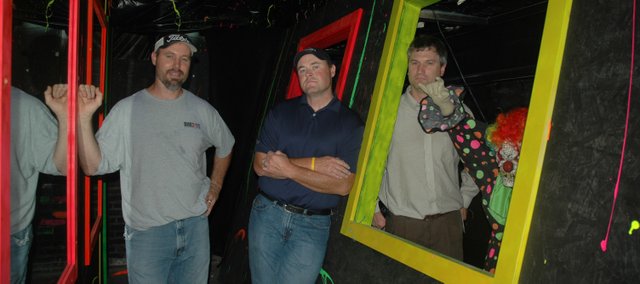 Mike Clouse and brothers Jerry and Steve Hoffine have a love of Halloween that extends beyond costumes, scary movies and Halloween parties.
"It's better than Christmas," Clouse says shortly after the cellphone on his desk alerts him to an incoming email. The sound heard is the unmistakable voice of "Silence of the Lambs" antagonist Hannibal Lecter softly saying "Hello, Clarice," as he famously did in the horror thriller.
Enter the asylum
3rd Street Asylum is open from 7 p.m. to midnight Fridays and Saturdays though Oct. 29, with an encore opening on Sunday, Oct. 30.
The haunted house takes anywhere from 21 to 30 minutes to get through.
Tickets are $15 per person and there are no age restrictions. More information can be found at 3rdstreetasylum.com.
The three friends' obsession with Halloween has, for the second year, manifested itself in their annual haunted house, 3rd Street Asylum, which kicked off Sept. 30 and will run through October. Last year the three formed a production company, JMS Entertainment, to stage the haunted house in the old, city-owned 1918 Building at Third and Cedar streets — they also had to sign a four-year contract with the city to do so.
That first haunted house had all the makings of a scary experience, with bats, spiders, snakes, scary clowns and even a few zombie babies. This year's event offers more of the same, but with several added attractions.
Clouse says he and the Hoffines have been busy since June remodeling about 50 percent of the haunted house. One new addition this year is the claustrophobia room, where participants have to force their way through a pitch-black room filled with airbags.
Another addition, the vortex, may throw off visitors' balance completely. A 22-foot long by 12-foot tall spinning hallway, the vortex "gives you a vertigo feel," as Jerry Hoffine said. Though the walkway is stable, the spinning wall of the hallway creates an unbalanced sensation that is not for the faint of stomach. And during a recent tour of the haunted house, Clouse points out what he calls a "puke bucket" as proof. The bucket sits just outside the vortex exit — just in case, Clouse says, adding that while some have come close, no one has yet had to use it.

A forest where werewolves and an 8-foot tall living tree (played by an actor on stilts) co-exist is also a new feature to the 3rd Street Asylum.
From the actors' costumes down to the smell of each room, Clouse and the Hoffines have done everything they can to create as realistic an experience as possible — in a world where zombies, werewolves and airbag-filled rooms exist, of course.
A total of 31 actors play their terrifying roles in new and updated costumes and masks that Clouse said are so believable as to be like a "second skin." And each section of the house has been infused with an accompanying smell. For example, in the autopsy room, there is the hint of the odor of a rotting corpse. In the werewolf forest, there is a musky, outdoorsy smell.
"You gotta create a whole atmosphere," Clouse said, noting that no actual, rotting corpses were used in the making of 3rd Street Asylum. The pre-packaged smells, which are emitted from a device similar to an air freshener, were purchased in May at the TransWorld Halloween and Attractions Show in St. Louis. "We want you when you enter here (to believe) that you're not in Bonner Springs anymore. You're in 3rd Street Asylum."
Prior to June, the three spent about three months visiting haunted houses across the United States to gain inspiration and new ideas for this year's 3rd Street Asylum. What they've come up with, Clouse says, is a spine-tingling experience they hope will be on par with, and maybe even better than, Kansas City's most well-known haunted sites, like The Beast and The Edge of Hell.
Our goal is to create the "number one haunted house in Kansas City," Clouse said, "which I think we're right on that road."