Barrier-breaking female golfer honored in
KCK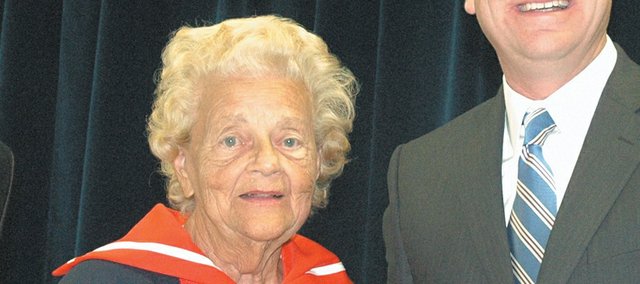 The first girl to play on a boys varsity team at Wyandotte High School was honored Tuesday night at the Wyandotte County Historical Museum in Bonner Springs.
Lifelong Kansas City, Kan., resident Helen Uzelac Fuller, now 89, was only a 17-year-old junior at WHS when she received her first varsity sports letter as a member of the school's golf team in 1939. She played on the team in her senior year, too.
"Because she could beat 'em," her son Dan Fuller said during Tuesday night's ceremony, which included the presentation of a proclamation by Joe Reardon, mayor and CEO of the Unified Government of Wyandotte County and Kansas City, Kan. "She could beat the boys so she made the golf team."
You could say that Helen Fuller grew up with golf in her blood. Her father was a greenkeeper and Helen Fuller had five older brothers, all of them golfers. One brother, Danny Uzelac, went on to become a professional golfer.
Helen Fuller says she began playing about age 12 at the instigation of her parents, who told her brothers, "If you want to go play golf, you gotta take your sister," as Dan Fuller said, noting that "they wouldn't cut her any slack. They made her drive off the men's tee and shoot par, like men's par … and so if she was going to play with the boys, she had to play like the boys. That's how she learned to play golf, because of her brothers."
Helen now says good-naturedly that, at the time, she didn't think it was fair of her brothers to be so hard on her. But she admits to being glad they were, as it made her into a better golf player.
"I just loved playing with my brothers and trying to beat them," Helen Fuller said. "I didn't beat them a lot, but I tried."
But Helen Fuller didn't have any trouble when it came to competition outside her family circle. She won three consecutive Kansas City, Kan., Women's Match Play Championships at the ages of 17, 18 and 19 — she still holds the record of being the only female to do so. She also was a runner-up in two Kansas State golf championships, in 1941 and 1949.
She also served as a golf instructor at the North American Aviation plant in Kansas City, Kan., during World War II. And she has carded two holes-in-one in her lifetime.
Helen Fuller had the chance to go pro, but she never did. She says her family, which included husband, John, and three children, was more important to her. But golfing always came in at a close second.
"I loved golf because it was out in the fresh air, you were in the sunshine and you were always competing with someone you were playing golf with," Helen Fuller said. "I liked the competition."
Tuesday's ceremony included Reardon's proclamation recognizing Helen Fuller's achievements and proclaiming Tuesday, Oct. 11, 2011, as Helen Fuller Day in Kansas City, Kan. Helen also was presented with the Presidential Award of Merit by David Meditz, president of the Wyandotte County Historical Society and Museum.