Bonner council discusses possibility of banning discharge of firearms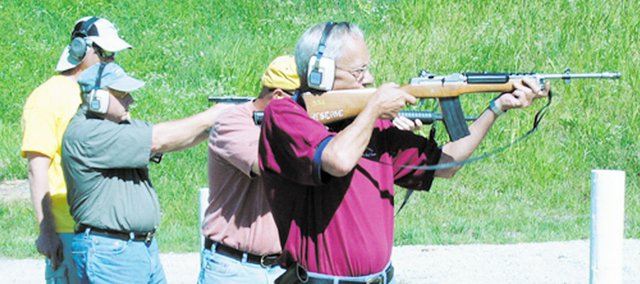 The Bonner Springs City Council will consider how to further limit the discharge of firearms in the city and the possibility of making it illegal everywhere within city limits.
While all residents still would be able to shoot firearms to defend their property, council members in a workshop prior to their regular meeting Tuesday discussed doing away with an ordinance that allows weapons to be shot for target practice or hunting purposes. Considering a map of areas where the discharge of firearms is allowed, they saw that many formerly rural areas are now too populated for shooting to remain legal.
After discussing possible setback rules from residences and major thoroughfares, council members decided to each study the map and come back to determine what areas, if any, in which shooting should still be allowed.
Council member Eric Freeman asked that the council revisit the issue, saying he had heard complaints about shooting near 134th Street between Kansas Highway 7 and Riverview. The city has considered its ordinance allowing the discharge of firearms in some areas several times in the past 15 years and studied it in depth in 2004, conducting a survey that showed most residents were in favor of banning the discharge of firearms within 1,000 feet of residences, public streets and other buildings.
A map of areas where the discharge of firearms is still allowed showed some areas along K-7 and Interstate 70 were included, as well as areas that are now more densely populated or used commercially, like the Lei Valley subdivision or the Bonner Springs Industrial Park.
Council member George Cooper said he was a big supporter of gun owners' rights, but as long as residents could still use guns to defend their property, he thought it may be time to make the discharge of firearms for other reasons illegal throughout the city.
Other council members thought there might still be some areas, such as the more rural properties closer to 142nd Street, where it could still be allowed, though they acknowledged those areas were few and would affect only a handful of properties.
"We've gotten to the point where it's so little, do we try to protect just one or two property owners?" Tom Stephens said.
Rita Hoag, city clerk, reminded the council that changing the discharge of firearms law would not affect areas where bow hunting is permitted, as that is handled by a different ordinance.
The council decided to study the map to determine what areas each council member felt the discharge of firearms could be safely allowed and compare them in a workshop prior to the next meeting.
The council met on Tuesday rather than Monday as it usually does due to the League of Kansas Municipalities annual conference in Wichita.
In other business, the council:
• Heard Mayor Clausie Smith proclaim Oct. 9-15 as Fire Prevention Week in the city.
• Heard Smith proclaim Oct. 16-22 as Kansas Business Women's Week in the city.
• Approved the consent agenda, with Cooper abstaining from Check No. 115083, which was a payment to BPU, his employer.
• Conducted a public hearing for and approved the 2012 public housing authority annual plan.
• Approved two change orders and accepted the Linda Lane water line updgrade project and a final payment to Schuetz Construction for $14,580.