Passion for job helps
BLHS

teacher win state honor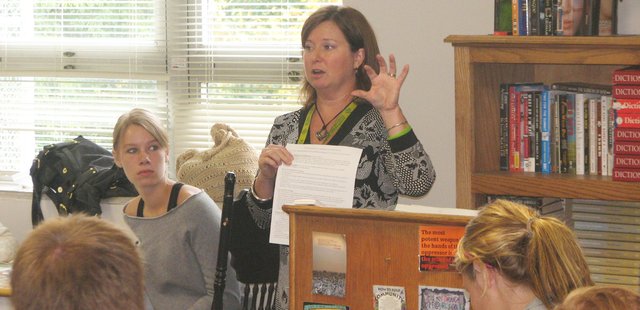 Since her childhood, Michelle Vielhauer knew she wanted to help young people. She just didn't know she would help them in this way.
Vielhauer didn't decide to become a teacher until an introductory psychology class at Kansas University convinced her that her previous plan, to be a child psychologist, was not going to work for her. But this September, after 17 years of teaching high school students, she became one of 12 secondary educators across the state to be named semifinalists for the Kansas Teacher of the Year award.
At Basehor-Linwood High School, the 12th-grade English teacher pours her heart into making sure seniors are ready to go out into the world, she said, and she knows she made the right career choice.
"I'm one of the few people that can say, 'I love my job,'" Vielhauer said.
Other BLHS staff members nominated Vielhauer for the state honor.
Rebecca Knowles, another BLHS English teacher, said Vielhauer's passion for helping her students is evident to the people who work with her.
"She really, truly wants the students to succeed, not just in English but in life," Knowles said.
Vielhauer said one of her high school English teachers predicted she would end up following the same path. At that time, she laughed the suggestion off, she said.
"I was like, 'No. I'm going to make some money,'" Vielhauer said.
She had planned to be a child psychologist, she said, since a psychologist helped her deal with the deaths of several family members that caused her to have nightmares as a young girl. When she took her first psychology class at KU, though, her graduate-student instructor spent each class period dully reading to students from the textbook, leading her to consider another path.
About five years ago, she was ready for another change, she said. She had taught social studies for 12 years at Blue Valley Northwest High School. She wanted an opportunity to teach her favorite subject, English. And though she was teaching at a good school, it was a bit too big for her taste.
She had already moved to a home between Basehor and Tonganoxie with her family. So when she heard about an opportunity to teach English at Basehor-Linwood, she jumped at the chance, she said.
"It really all came together at the perfect time for me," Vielhauer said.
She arrived at BLHS in the fall of 2006, and since then she has mostly taught senior English classes, she said. Most years, she teaches the entire senior class.
Emily Lynch, a 2011 BLHS graduate, said that many seniors come to love Vielhauer's class, though it comes with high work expectations, including a 10-page research paper. One key reason is that "Mrs. V." treats students with respect, she said.
"Rather than acting like she's better than you because she is your teacher, she treats you like an adult," Lynch said.
Sometime she would show that respect, along with a caring nature, by asking students how their other classes, and their lives, were going, Lynch said. When Lynch was experiencing some of the social stresses that high school can bring, Vielhauer would meet with her after class to listen, she said.
Vielhauer said she was glad to provide students with someone to talk with in times of stress, although she couldn't fix all the problems in their lives.
"A lot of times, though, all they really need is just someone to listen," Vielhauer said.
Vielhauer's favorite unit each year is on the concept of satire, she said. She enjoys watching the shock emerge on students' faces as they read Jonathan Swift's 1729 essay "A Modest Proposal," which mockingly suggests selling poor children as food in order to alleviate poverty. Afterwards, she lets students write pieces of satire about any topic they wish — even her.
Her sense of humor helped Lynch get through her least favorite unit, on William Shakespeare's "Macbeth," Lynch said. Vielhauer joined the class in laughing at an old performance of the play they watched on video, Lynch said.
"Even though 'Macbeth' was god-awful — I could not understand 'Macbeth' — she made it interesting," Lynch said.
The very best moment for Vielhauer each year, she said, was watching students graduate. Often she'll think about how far they've come, she said. She remembered watching one student walk across the stage who at the beginning of his junior year had trouble writing as much as a paragraph, but by the end of his senior year was able to complete his 10-page research paper.
"When you saw his face, he was so proud of himself that he did it, and he didn't think he could," Vielhauer said.
Lynch, now a student at Northwest Missouri State University, is studying to become an elementary school teacher. She said that though she would be teaching a different age group than Vielhauer, there was one quality she hoped to borrow from her.
"I would definitely want to care as much as she does," Lynch said.