BLHS

students named Kansas Honor Scholars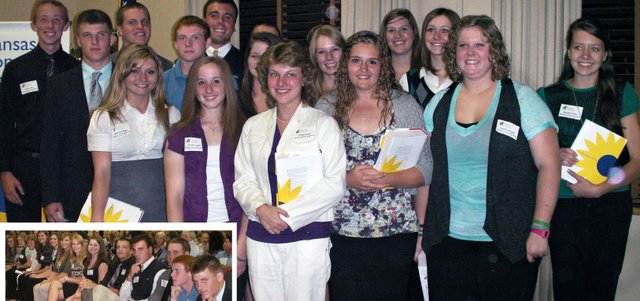 The Kansas University Alumni Association last month honored 18 Basehor-Linwood High School seniors as Kansas Honor Scholars for ranking in the top 10 percent of their class.
The BLHS students honored were Marcas Box, Alexandria Bright, Bridget Davis, Emily Engler, Jesse Hiss, Garret Kahle, Benjamin Kamm, Danae Leppke, Kristin Mance, Grant Moyer, Jacob Peterson, Ashlee Richardson, Danielle Ridder, Alexis Tate, Hannah Tush, Rachel Van Fleet, Megan Wheeler and Jennifer Whipple.
The seniors were honored at a reception Sept. 28 in Leavenworth. For the achievement, the students received a special edition of The American Heritage Dictionary and a chance to qualify for a $4,000 KU scholarship.