K-7/
US

24-40 Interchange named for former legislator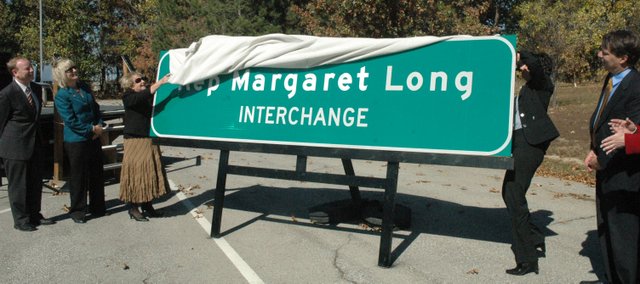 The new interchange at Kansas Highway 7 and US 24/40 has become the first designated in honor of a person.
State and local government officials Thursday unveiled the sign designating the recently-completed $36 million interchange for former state legislator Margaret Long. Officials touted Long's support of transportation initiatives as a member of the House Transportation Committee for 10 years.
Sen. Kelly Kultala, D-Kansas City, Kan., and Rep. Kathy Wolfe Moore, D-Kansas City, Kan., co-sponsored a bill to designate the interchange in Long's name, which was passes by the 2011 Legislature.
Officials attending the unveiling ceremony at the Kansas Department of Transportation's Bonner Springs office, just southwest of the interchange, included Kultala, Moore, Lt. Gov. Jeff Colyer, Deb Miller, Secretary of Transportation, Rep. Ron Worley, R-Lenexa, and Joe Reardon, mayor and CEO of the Unified Government of Wyandotte County and Kansas City, Kan.
Each spoke touting Long's leadership and support of the state highway system; Miller and Worley praised her efforts to help the T-WORKS transportation program, which was passed by the 2010 Legislature.
"But for her vocal efforts, that plan might not have passed," Worley said.
Long represented Wyandotte County for a dozen years, taking over her husband's seat in the 38th district after his death in 1998 and then moving to the 36th District in 2003 until her retirement last year.
Private funds were raised to cover the cost of producing four signs for the new interchange designation and future maintenance. One sign each will be placed on both northbound and southbound K-7 on either side of the interchange, on US-24/40 just west of the interchange, and on State Avenue just east of the interchange.