Basehor library experimenting with e-books, despite uncertainties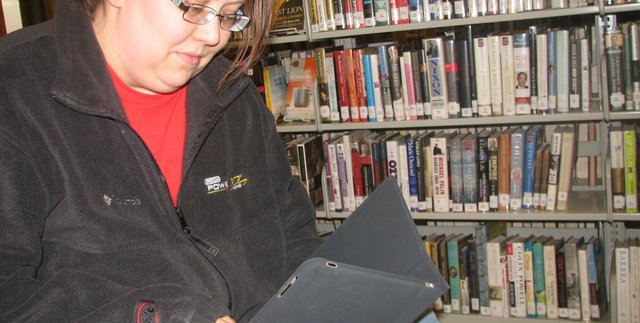 Jean Scheller wasn't sure how an e-reader would fit into her life, but she didn't want the emerging popularity of Kindles, Nooks and the like to pass her by.
"I feel like I'm pretty much letting myself get left behind with all the technology that's out there," said Scheller, who doesn't have a computer at home.
Basehor Community Library leaders are also unsure how exactly e-books and e-readers may fit into the library's operations, director Diana Weaver said. But like Scheller, the library is making sure it doesn't miss the e-book wave.
The library's new Digital Readers group, a sort of book club without any physical books, formed this fall as the library considered how to make electronic reading a part of its offerings, Weaver said.
The group, made up of 12 library staff members, supporters and patrons, will pass around a variety of devices that can be used for digital reading, including Amazon's Kindle, Barnes & Noble's Nook and Apple's iPad. It met for the first time in late September.
"We're just going to play with them," Weaver said.
Weaver said libraries around the United States had clashed with major book publishers about the possible lending of e-books, as publishers fear that too much free distribution might cut into their sales. For now, the Basehor library can direct patrons to websites where some e-books, including many classic works, are available for free. By sometime in 2012, the library may begin to offer electronic lending of bestsellers and other contemporary books, she said.
"No one's really clear on what's going to work in libraries and what's not," Weaver said.
But despite that uncertainty, she said it was the library's responsibility to its patrons to help them learn about a new way to read that has exploded in popularity in the last several years.
"I know a lot of people get them for Christmas and then wonder what to do with them," Weaver said.
Scheller, who lives northwest of Basehor and works as a part-time page at the library, said she joined the group because she's a heavy reader and she thought it would be a nice opportunity to introduce herself to some new technology at age 64.
So far, she has tried out a Kindle and a Nook, she said. Even though she doesn't use computers or other electronic devices heavily, she said, she didn't have too much trouble figuring out how the devices worked.
"As long as you're not afraid to experiment, then it becomes kind of easy," Scheller said.
She took the Kindle, loaded with a book and several word games, along on a trip to New Mexico earlier this month. It proved a great travel companion, she said,
"Anytime I wanted to, I could just pull it out of my purse and enjoy it," Scheller said.
Scheller said she wasn't likely to ever stop reading physical books, but she would now consider using an e-reader to do some of her reading electronically, especially if library lending becomes possible.
Weaver said the Digital Readers group contained people with all levels of technological experience, so the library could learn how a variety of patrons might use digital reading devices in different ways.
Also in the group is self-described "techno geek" Jennifer Bleam, a library patron and a Friends of the Library member who lives northwest of Basehor. Bleam said she's also a heavy reader, finishing at least one book each week.
She said the group had helped her learn a big lesson so far: that a tablet device like an iPad would not be the right choice for a reading device for her. She tried an iPad as her first device, and she could barely break away from all the games available to get any reading done, she said.
"I didn't spend $500 on an iPad and find out that it cuts my ability to read, like, in half, because it's such a big distraction," Bleam said.
She said she looked forward to trying one of the simpler e-readers. She hopes a digital reading device might allow her to go on a vacation without one bag dedicated only to books, and prevent her 800-book personal collection from outgrowing its shelves at home, she said.
Members of the group have shared their thoughts and advice on the devices on a private blog site, Weaver said, which may be made publicly available later on. The Digital Readers group will likely continue next year with a new set of participants, she said.
Bleam praised the library for encouraging e-reader use when other libraries might view the devices as a threat. She is also a Johnson County Library cardholder, she said, and from her experience it seemed the Basehor library was ahead of the much larger system in adopting new technology.
"To me, they stepped up and said that if a library wants to survive in the digital age, it has to be OK with the digital age," Bleam said.