Basehor to offer annexation, lower fees to sewer district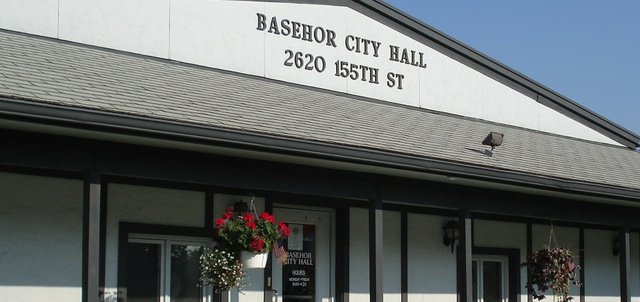 Coming up
7 p.m. Thursday, Glenwood Ridge Elementary School (changed from 6:30 p.m.): Leavenworth County informational meeting for sewer district residents; public comment welcomed
10 a.m. Monday, Leavenworth County Courthouse: Final public hearing to consider assessments for sewer district residents
After years of wrangling with the city of Basehor about sewer fees and a possible annexation, residents of Leavenworth County Sewer District No. 3 will choose their own fate.
Barring a rejection by county commissioners, Sewer District 3 residents will have a chance to vote on their own annexation — and in-city sewer connection fees — after a 5-0 vote by the Basehor City Council on Monday.
An audible "thank you" came from sewer district residents in the crowd after the council's vote. The decision will begin the process of annexing all properties in the sewer district and reduce their connection fees upon their annexation, while reducing their monthly sewer bills to in-city rates starting in November.
For the city to annex the properties in the sewer district, it will need to present to the Leavenworth County Commissioners a petition for annexation and a plan for extending city services to the area, city attorney Shannon Marcano said. If the commissioners approve the plan, the annexation would go to a majority vote by the residents of the area, conducted by a mail-in ballot.
The annexation process would likely take about a year, Marcano said. The council's vote instructed city staff to prepare a plan to present to the county commissioners by December.
Council member Travis Miles, who made the motion passed by the council, said after the meeting that the results of a recent survey sent to sewer district residents boded well for the possibility of annexation.
"I'm fairly confident that the city will be successful in the annexation of Sewer District 3," Miles said.
Joan Robinson, a resident of the Glenwood Estates subdivision that comprises most of Sewer District 3, said at Monday's meeting she had encouraged many of her neighbors to return last month's surveys to the city and show their support for becoming a part of Basehor in exchange for a sewer fee break.
"We'd like to be a part of this community," Robinson said, "a full-fledged part of this community."
Assistant city administrator Lloyd Martley reported at the council's meeting that of 96 sewer district homeowners that received surveys from the city, 52 responded that they would agree to be annexed if they could pay in-city rates on sewer connection fees and monthly bills. Twelve homeowners said they would be opposed to annexation, one responded as undecided and 33 did not respond.
In addition to easing up on the residents' monthly sewer bills starting next month, the council's vote would also refund the out-of-city surcharge they've paid on their bills since April in the event the district is annexed.
According to the motion, each homeowner's $975 connection fee reduction would come in the form of reduced property tax assessments after the annexation is complete. Using Leavenworth County's interest projections, that reduction could save each homeowner about $1,500 over the 20 years they'll be assessed for closing their lagoons and connecting to Basehor's sewer system.
City Council President Dennis Mertz said the city owed it to the sewer district residents to give them a break if it plans to make them a part of the city in the future.
"It is our intent to treat these like our citizens," Mertz said.
Council member Fred Box said he didn't want to wait until the homeowners were annexed to allow them to pay regular monthly sewer rates, as some residents have reported their monthly bills have climbed to as much as $150 or $200.
"I want to help them out right now," Box said.
Also on Monday, the council:
• Approved, on three 5-0 votes, zoning changes, a preliminary plat and a final plat for a planned Country Place Senior Living assisted-living center on Pinehurst Drive near 158th Street.
• Approved, 5-0, a payment of about $21,100 to McAfee Henderson Solutions, Inc., of Lenexa for design work on a possible pedestrian trail. The council approved the design work in 2009. The trail would run from near 155th and Chestnut streets to near 159th Street and Parallel Road.
• At the conclusion of the meeting, entered into three executive sessions: one lasting 15 minutes, citing attorney-client privilege and including Martley; another lasting 10 minutes, also citing attorney-client privilege and including Martley; and one lasting 5 minutes, citing attorney-client privilege and matters of non-elected personnel.
No action was taken following the executive sessions.