BLHS

boys, girls take 3rd, but injuries nag seniors
Hamstring injury sidelines Tush, Oliva battles knee pain, but 'Cats still turn in solid performances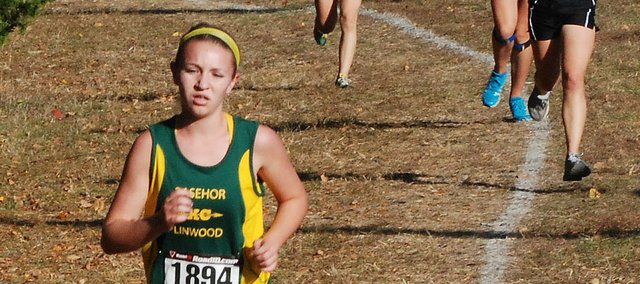 Kansas City, Kan. — A pair of third-place team finishes at the Kaw Valley League Cross Country Championships left the Basehor-Linwood Bobcats with a bittersweet taste in their mouths.
Photo Gallery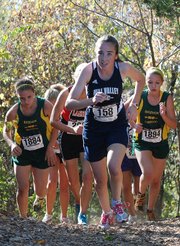 Bobcats, Braves compete at KVL cross country
Sure, the Bobcats had some strong performances and took down some of their league rivals, but BLHS coach Jeff Venema had a tough time swallowing the fact that injuries cost two seniors an opportunity to have a better day Thursday at Pierson Park.
For the girls, senior Hannah Tush has battled hamstring injuries all season. She planned to run at the league meet, but her hamstrings acted up again during warm-ups and she was unable to compete.
"When you see a two-time state qualifier who can't run without limping, it just kills you," Venema said. "You can see the hurt in her eyes, and it's just tough."
Then, in the boys' race, senior Jonathan Oliva was unable to perform at his best due to a knee injury that flared up a week earlier at Pleasant Ridge. Oliva sported a knee brace and a grimace during the race.
"He got second-team All-League today, and he's a first-team All-League kid," Venema said.
Venema will have his fingers crossed that both seniors heal this week in preparation for the Class 4A regional meet, because he knows he has a strong crop of runners to surround them with.
On the girls' side, Lansing dominated the KVL field and won the team title with 21 points. Mill Valley was second with 76, and BLHS took third with 81.
Lansing sophomore Mariah Anthony was the 4K champion in 16 minutes, 53.70 seconds. Basehor-Linwood placed two runners in the top 10. Freshman Quinnlyn Walcott led the way with a fifth-place finish in 17:41 and sophomore Ally Laney took seventh in 17:48.
Both Walcott and Laney started fast and hung with the leaders' pack for as long as they could before holding their ground during the final half-mile to protect their position in the standings.
"Me and Ally push each other so much in practice and in meets," Walcott said of the strength they draw from each other.
Also for BLHS, freshman Keirsten Lindelof and sophomore Sara Rehm stuck together throughout the race. Lindelof placed 24th in 19:29 and Rehm was 25th in 19:32. Junior Haley Stallbaumer placed 32nd in 20:23 and sophomore Rebecca Carroll placed 35th in 20:47.
On the boys' side, Mill Valley had six of the top 10 finishers and won with 27 points. Tonganoxie was second with 84 and BLHS finished third with 93.
Turner senior Russell Brown set a 5K course record with a winning time of 17:13.10.
Oliva battled through his knee injury and placed 15th in 18:37.
A strong contingent of BLHS underclassmen rounded out the field for the Bobcats. Sophomore Tanner Tavis garnered All-KVL second-team honors for placing 18th in 18:54, and so did sophomore Luke McGowan who placed 20th in 19:04. Sophomore Mark Vitt placed 22nd in 19:19, sophomore Johnny Fulkerson finished 23rd in 19:42 and freshman Casey Jones finished 24th in 19:47.
"We've got a bunch of sophomore boys, and we're going to be heard from," Venema said. "I'd like it to be this year."
Junior Eli Elliott rounded out the lineup with a 32nd-place finish in 20:17.
Basehor-Linwood next competes at the Class 4A regional meet at 3 p.m. Saturday, Oct. 22, at Wyandotte County Park. Other teams in the regional are Atchison, Baldwin, Bonner Springs, Santa Fe Trail, De Soto, Eudora, Bishop Ward, Piper, Sumner Academy, St. James Academy, Jefferson County West, Perry-Lecompton, Spring Hill, Tonganoxie and Topeka Hayden.