5 Questions: No tricks
Take steps to insure Halloween stays safe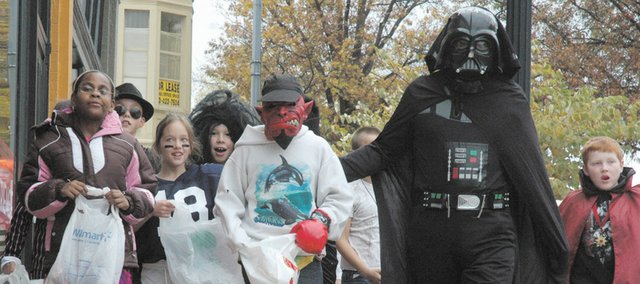 On average, twice as many children are killed while walking on Halloween compared to other days of the year, according to Safe Kids Kansas. The organization offers this advice for ensuring a safe Halloween:
Q: How old should children be to go out trick-or-treating without an adult?
A: Children younger than age 12 should not be alone crossing streets on Halloween without an adult. If older kids are mature enough to go trick-or-treating without adult supervision, parents should make sure they go in a group and stick to a predetermined route with good lighting.
Q: Is it safe for children to wear a Halloween mask when trick-or-treating?
A: Masks can obstruct a child's vision, so choose nontoxic face paint and makeup whenever possible instead.
Q: What do you recommend for costumes?
A: Costumes can be both creative and safe. Decorate costumes and bags with reflective tape or stickers and, if possible, choose light colors. Have kids carry glow sticks or flashlights in order to see better, as well as be seen by drivers.
Q: What sort of rules should be in place for eating candy received on Halloween?
A: While kids never want to wait to dive into their candy, it is best to check sweets for signs of tampering before children are allowed to eat them. Remind children to only eat treats in original and unopened wrappers.
Q: What can drivers do to make Halloween more safe?
A: Slow down in residential neighborhoods. Remember that popular trick-or-treating hours are 5:30 to 9:30 p.m. Be especially alert and take extra time to look for kids at intersections, on medians and on curbs. Children are excited on Halloween and may move in unpredictable ways. Reduce any distractions inside your car, such as talking on the phone or eating, so you can concentrate on the road and your surroundings.