BLHS

volleyball closes season of progress with substate loss to Tonganoxie
Bonner Springs posts winning record, falls to St. James Academy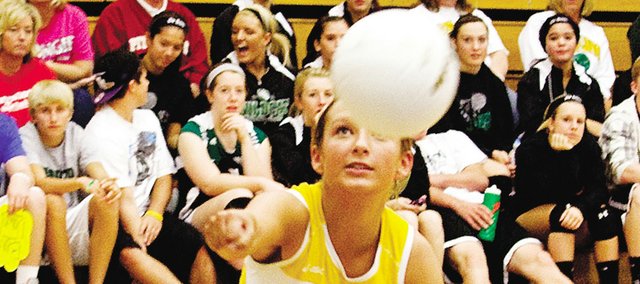 The Basehor-Linwood volleyball team ended a season of growth and progress with a loss to Tonganoxie at the Class 4A substate tournament Saturday at St. James Academy.
The Bobcats started strong but were unable to maintain momentum, and Tonganoxie prevailed, 19-25, 25-14, 25-15.
"The first game we played great," BLHS coach Amy Irvin said. "We had intensity and drive and determination. The girls played with heart, which has been a huge focus of ours the whole season. We have the talent; we just have to learn how to play with heart every single game to 25 and not give up for one single point."
Any momentum the Bobcats had in the first game dissipated in the second and third games. Tonganoxie separated from Basehor-Linwood with numerous scoring runs in both games.
"This is something I have stressed this season as well," Irvin said. "If you give the opposing team a point, you must get two or three in return. We let them go on too many runs and we got down. I told the girls everyone could physically see when we gave up, and in a substate game when it is 'do or die'; anything can happen. You must play to 25."
Losing to Tonganoxie was difficult, Irvin said.
"It was a hurtful loss," she said. "Especially when we had beaten them earlier in the season. We know we should have and could have beat them each and every time we have played them. It was definitely a loss that should not have happened."
Brandi Stahl led BLHS in kills and Cara McCarty led in blocks.
Irvin said she can take some positives from the match, specifically the play of some of her younger players.
"I began playing Abbey Mellies in our league championship game against Lansing on Tuesday. She maintained that spot at substate and did an outstanding job," Irvin said. "I think the girls now see that talent is not our weakness, it is being mentally tough and playing with hard determination all of the time, not some of the time."
While substate did not go as the Bobcats had hoped, Irvin said her team made progress this season.
"It has exceeded my expectations," she said. "To end the season second in league, beat teams that we have never beat in the past and know that in the seven years now I have coached at some level at BLHS varsity has not finished the season better than fourth in league is a huge deal. We took Lansing to five games after losing the first two, and only losing the fifth game by four points is huge for us. We played Lansing with so much heart and the utmost determination to beat them."
Lansing advanced to the state tournament in Class 5A.
Irvin said consistent play would help the team improve upon this season.
"If we would have played like that all season it would have been an even better season than it was," she said. "I have explained to my girls that we can only get better and grow from here. We are going to be working hardcore during the offseason and throughout the spring and summer months. We have already made it our goal to take first in league next year and I have no doubt in my mind that we can and will do that. Our new program is growing in the right direction and our future is so very bright."
Basehor-Linwood ended the season with a 17-20 record.
Meanwhile, Bonner Springs also closed out a season of major progress with a season-ending loss in the 4A substate tournament.
The Braves, who won just nine matches in 2009 and improved to 17 victories in 2010, closed out the 2011 campaign with a 21-18 record and a loss in the substate semifinals.
The Braves beat Sumner Academy in the first round, 25-14, 25-23. After that, BSHS advanced to face three-time defending state champion and 2010 Prep Volleyball national champion St. James Academy in the semifinals. St. James handed Bonner Springs a 25-10, 25-6 loss.
Calls to Bonner Springs coach Heather Campbell seeking comment about substate were not returned by press time.