City of Bonner Springs to revamp its website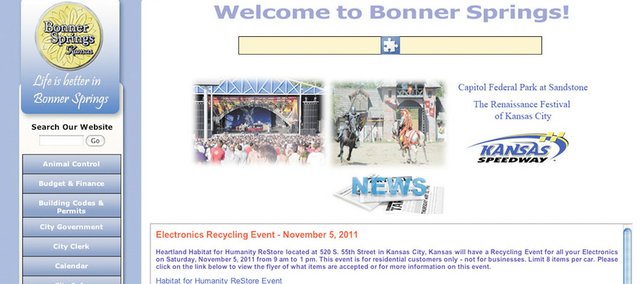 Those who can't make a trip or phone call to Bonner Springs City Hall for information soon will be able to find it more easily online.
At 5 p.m. on Friday, Oct. 28, the city will launch a new website design at its usual address, bonnersprings.org. The new design is said to be much more user-friendly and will allow the city to update the website much more easily, all while saving the city money.
"We're very excited about it," said Marcia Ashford, community and economic development director.
Ashford said the city began looking into alternatives for its website at the beginning of the year, prompted by the lack of functionality and ability to update content on the existing site. She said the city manager's administrative assistant could upload news and some other documents, but many changes had to be submitted to the company managing the website — and that company only accepted changes on a monthly basis.
"So if we missed the cut-off, then we'd have to wait another month to get it changed," Ashford said.
The city contracted with a new website provider, Civic Plus of Manhattan, Kan., for the new design. The annual cost for the site would be less than the current contract and the site be much more advanced, Ashford said, though she could not give specific costs
With the new site, city staff members will be able to make changes to the site at any time.
"Each department can have access to their own content whenever they need to make changes," Ashford said
The new site also will feature job and bid postings, a business and resource directory, a real estate locator and a request tracker that allows residents to log in and notify the city of problems or concerns.
"If they notice a street light is out or a sign is down or if someone in their neighborhood has tall weeds, they can go online," Ashford said.
With the "Notify Me" feature, residents also will be able to subscribe to an RSS feed for e-mails or notifications on their mobile phones and receive information from the city. Residents may select specific topics, whether they want to get job postings, city council agendas, street closure alerts or parks and recreation information.
There may be some bugs as the new website gets up and running, Ashford said, so some visitors may still see the old website if they visit it over the weekend. However, the new site should be fully functional by Monday, she said.