Occupation: Payroll and invoicing with Schlumberger in Lawrence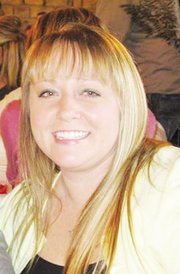 Family: Fiance, Jon; mother, Debbie; grandfather, Bill; aunt, Vickie; and great aunt, Mary
Place of birth: Kansas City, Kan.
Q: When did you move to the area, and what brought you here?
A: I moved to southern Tonganoxie (outside the city limits) in 2001, onto 40 acres with my mom, aunt and grandpa. My fiance and I just purchased our first home in Linwood last week.
Q: What's the biggest risk you've ever taken?
A: Closing on a house. Our wedding is in about a month and half, so adding the stress of buying a house at the same time was crazy.
Q: What's the best piece of advice you've ever been given?
A: "Everything happens for a reason."
Q: What three things would you want people to know about you?
A: One, I am a hard worker — I clean stalls and take care of horses every morning and evening. I haul hay, I work with our cows, etc.; two, I have a  fantastic family; and three, I am seriously marrying the love of my life.
Q: What did you want to be when you grew up?
A: Originally, I wanted to be a grocery store checker when I grew up. When I was little in the  early '80s, they were the only ones  I saw who used any type of a computer. Then I wanted to be a teacher and then a hair dresser. How did I get into finance?
Q: What's your ideal vacation spot?
A: I'm not one to take out-of-town vacations because of my horses, but I would be good with just a week away from work.
Favorite things
Song: "You are My Sunshine." My grandma sang it to me when I was little.
Colors: Crimson and blue
Food: Chicken nachos