A stable life:
BLMS

student displays horse-riding talents on world stage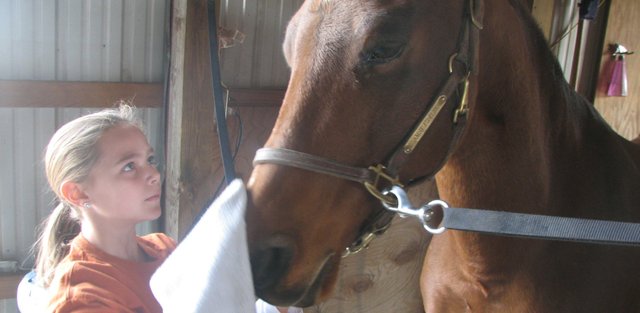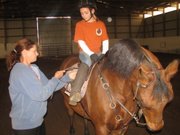 Katie Fulkerson calmly stares directly ahead, back perfectly straight, bouncing in rhythm with the trotting horse beneath her. Her arms stay bent at the same angle, her hands clasping the reins.
Her parents and trainer say there's a competitive fire behind that calm expression. Katie says she's just having a lot of fun.
"I just really love doing this," Katie said.
Katie, 12 years old and a sixth-grader at Basehor-Linwood Middle School, was back in training Saturday at Justindeavor Stables in Kansas City, Kan., a week after returning from the Grand National and World Championship Morgan Horse Show in Oklahoma City.
At that show, Katie won championships in two Grand National events and finished third and sixth in two World Championship shows.
Many of the other competitors in her age group at the show have likely been showing horses since they were very small, said Shaughnessy Morris, Katie's trainer. But Katie just started about a year and a half ago.
"It shows how talented she is," Morris said.
Katie had been taking horse riding lessons at the stables for about a year before Morris took them over. She'd grown an interest in horses because a neighbor had one, and her parents hoped to teach her how to ride and take care of a horse in case she wanted one of her own someday.
"I thought I would just come and ride," Katie said, "but it turned out to be a lot more than that."
But soon after Morris began giving Katie lessons in February 2010, she told Katie's parents that she was talented enough to ride in horse shows.
"Shaughnessy suckered us into it," Mike Fulkerson, Katie's father, said, laughing.
By that summer, Katie was competing in a regional Morgan horse show in Wichita. And this year, she's won championships at regional shows in Kansas City, Wichita and Lexington, Ky., riding horses from Morris' stables. Those victories qualified her for the world championship event earlier this month. Morgan horses are Morris' preferred breed.
Riding in horse shows such as these requires a strong connection between the rider and horse, Morris said. Riders ride their horses around a ring, following directions from an announcer to walk, trot and change directions. The rider and horse must keep themselves positioned properly the entire time, moving in concert with one another. When it all comes together, it's "magical," she said.
And despite all this intention to detail, the riders must make it all appear smooth and easy, she said, even if something goes wrong. Katie's directions to her horse — a kick in the side with her spurs here, a tug on the reins there — must be nearly imperceptible.
"It looks like the horse is listening to the announcer," Carrie Fulkerson, Katie's mother, said.
Competing in the shows also requires a good deal of time commitment from riders, Morris said, to train, become familiar with different horses and to help out around the stables to keep things running.
Katie comes out to the stables every weekend and a few days after school, as soon as her homework is done, Mike said. Oftentimes, she has had to turn down invitations to parties or sleepovers so she could head to the stables, Carrie said.
Katie said she doesn't mind that.
"When you're having fun doing it, it's not always that hard to work," Katie said.
Morris said Katie had a deep passion for riding that's uncommon among children her age.
"She's just an incredible kid," Morris said.
Mike and Carrie Fulkerson credited the instruction by Morris, herself a world champion show rider, for Katie's quick success. They said riding in shows revealed a competitive streak in Katie, as well.
"She hates losing," Carrie said. "If she doesn't win, she's not satisfied."
But Katie said the biggest reason she puts in so much time and effort is that she loves riding and working with the horses. And competing at the Grand National event was exhilarating, she said.
"It was really cool, because it's a really fun environment to be in," Katie said. "And when you go in the ring and you're showing, you have a lot of adrenaline."
The Oklahoma show concluded this year's showing season, Morris said. Next year, Katie will move up to a higher age division, which will require cantering in addition to trotting and walking around the ring.
Carrie said Katie talks of wanting to win a world championship some day. But Katie said that wasn't her biggest goal.
"You always want to win," Katie said, "but it's most important to have fun with what you're doing."