Teen takes passion for pool to award-winning heights
Born to a family full of talented pool players, pool always has been a big part of Taylor Anderson's life. But in the past two years, it has become much more.
The Bonner Springs teen decided to leave his other interests, like baseball and basketball, behind and is putting his focus on pool, his new favorite game. In May, he took ninth place in the adult men's division of the Billiard Congress of America's 8-Ball National Championships in Las Vegas, placing 129th out of 1,300 entrants overall.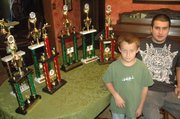 "He realized how good he actually was," his grandfather, Larry Mitchener, said of the tournament results.
Now, Anderson thinks he is ready to take the ultimate step in playing pool.
"I think I'm going to try to step it up and play professionally," he said.
Anderson was first exposed to pool by Mitchener. When Anderson was just 2, his grandfather would prop him up on a chair next to the pool table so Anderson could roll the balls across the table. He was 3 when he got his first cue, and he started playing – and beating – his grandfather's friends by age 7.
Anderson's mother and grandmother also are avid pool players, and he started playing on a league team, called "All in the Family," with his grandfather, grandmother and Mitchener's brother, Mark.
He won his first tournament at age 8 and soon began playing tournaments throughout the country. He has won tournaments in six states, and played tournaments in 10 states.
Most recently, he won the VNEA 21st Annual International Junior Pool Championships Minor Singles division, an 8-ball tournament in June, which he said was far too easy.
"He knew he had it from the beginning," said his mother, Terry Anderson, who added the other payers were a bit intimidated by his recent BCA ranking.
Anderson now practices on his home table about eight hours a day with his good friend, Michael Wells of Bonner Springs, and still plays in a league with his family team at Shooters in Olathe, where he has something of a fan base. The bar even recently gave him a custom cue.
Anderson said he loves the competition and challenging himself to be the best.
"I don't want anyone to make any balls on me at all," he said.
He excels at playing on the shorter 7- or 8-foot tables found in most bars; Mitchener said he could beat anyone on the shorter tables. But professionals play on longer, 9-foot tables, so he is working on improving his game there.
Anderson has done some work with another local pro, Mike Banks Jr. of Blue Springs, Mo., who has taught him a lot about the skills necessary to play at a professional level. But Anderson still has a lot to learn about the other part of going pro — getting sponsors, which will be the next step in developing a professional career.
With family members who fostered Anderson's passion for pool, they all support his decision to attempt to go pro. Mitchener said they hardly play competitively themselves anymore, because "it's a lot more fun to watch him play than to play ourselves."
And now it seems Anderson's 7-year-old brother, Jerron, is following in his footsteps. Jerron has played in VNEA tournaments the last two years, and has long asked to be able to compete like his older brother.
"We told him once he understood the rules, he could start competing," Mitchener said.
In his first VNEA international tournament, Jerron joined a team of older boys and made the winning shot to beat the much-touted New Zealand team.
"He's actually better at his age than Taylor was," Mitchener said.
Jerron has adopted a similar goal to his brother's: To be the best pool player ever.
"I like to play pool with kids my own age, and I really think it's cool when I win," he said. "It was even cooler when I beat my big brother Taylor that ONE time."