Walcott secures state berth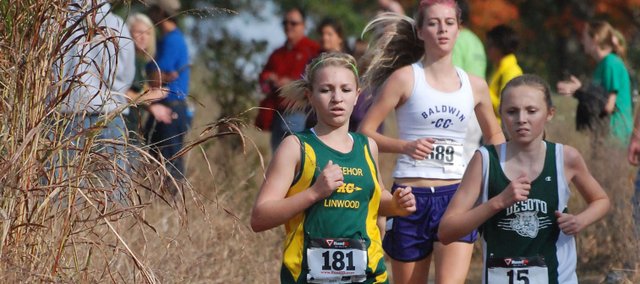 KANSAS CITY, KAN. — The Basehor-Linwood High School cross country coaching staff knew Quinnlyn Walcott was special before she ever suited up for the Bobcats.
"We brought her last year to state as an eighth-grader," BLHS coach Jeff Venema said. "We just took her along and said, 'You're going to be here next year.'"
They were right.
Walcott added to her dynamite freshman campaign with a fourth-place finish at the Class 4A regional championships Saturday at Wyandotte County Park. She locked up an individual state berth, and her 4K time of 15 minutes, 44.24 seconds, broke her own school record at that distance by 16 seconds.
"That's just crazy-fast," Venema said. "And she gets fourth in an extremely difficult regional. What that means is we're going to look at her chances to do well at state. Obviously this has got to be a confidence-builder."
Baldwin sophomore Katie Jones was the regional champion in 15:28.75.
For Walcott, her goal was simply to run well and earn a state berth.
"I just wanted to make it in the top 20, and I was so glad I made it in the top 10," she said. "I was really pumped to start, and I'm just really glad I made it to state."
Walcott started fast and established her position with the leaders quickly. She stuck with runner-up Alexa Van Lerberg, a St. James Academy junior, most of the way.
Walcott said it helped to be able to pace with the faster runners after establishing her position.
"You want to run your own pace; you don't pace off anyone else. You run your own pace, but you still have to get those other people who are pushing you throughout the race," she said.
Walcott began the season hoping to qualify for state. Now, that goal is a reality.
"It's so exciting," she said. "I'm so glad to be going to state as a freshman and I'm just really proud. I'm proud of everyone on our team."
The state championships will take place Saturday, Oct. 29, at Wamego Country Club.
While Walcott's performance highlighted the day for Basehor-Linwood, there were plenty of other bittersweet emotions to go around.
The Basehor-Linwood girls finished sixth in the team standings with 185 points. Baldwin (29), De Soto (83) and St. James Academy (92) claimed the top three spots and team berths into state.
No other BLHS girls joined Walcott in qualifying for state. Sophomore Ally Laney — a state qualifier in 2010 — spent most of the week sick leading up to regionals. She finished 21st in 16:34.89 and missed qualifying for state by 16 seconds.
Senior Hannah Tush — a state qualifier in 2009 and 2010 — missed most of the season with hamstring injuries and finished 69th in 19:00.44.
Also for the BLHS girls, junior Haley Stallbaumer was 53rd in 17:53.95, sophomore Sara Rehm was 56th in 18:03.91, freshman Keirsten Lindelof was 57th in 18:08.92 and sophomore Rebecca Carroll was 59th in 18:15.72.
Meanwhile, the Basehor-Linwood boys finished fourth as a team with 123 points. De Soto (42), Baldwin (84) and Tonganoxie (91) claimed the three team state berths.
No BLHS boys qualified individually for state. Senior Jonathan Oliva — a 2010 state qualifier — battled a knee injury for the last two weeks of the season and finished 16th at regionals in 17:52.13 and was 14 seconds away from a state berth.
The top five individuals from non-qualifying teams advance to state.
De Soto junior Angel Vasquez was the 5K champion in 15:42.03.
Also for the BLHS, sophomore Tanner Tavis was 21st in 18:09.26, sophomore Luke McGowan was 22nd in 18:09.97, sophomore Johnny Fulkerson was 34th in 18:34.50, freshman Casey Jones was 35th in 18:36.13, junior Mark Vitt was 37th in 18:41.60 and junior Eli Elliott was 49th in 19:08.74.