Basehor Farmer's Market slowly plants roots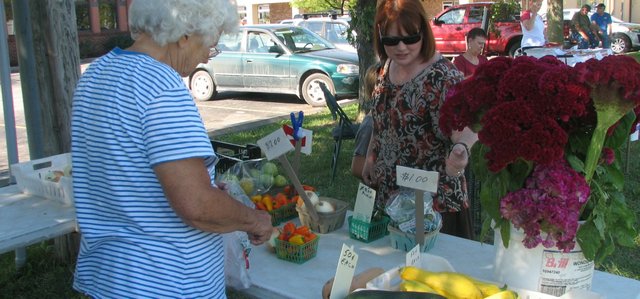 Basehor Farmer's Market
• 8 a.m. to noon each Saturday
• Runs through Oct. 15
• On grass north of Reece & Nichols, 155th Street and State Avenue
Photo Gallery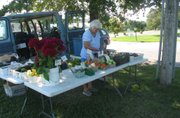 A Day at the Basehor Farmer's Market
Photos from the Basehor Farmer's Market on Saturday, Aug. 27.
Like many others, Marissa Sedlock came for the tomatoes.
Sedlock, with her 6-year-old son Timothy, visited the Basehor Farmer's Market late Saturday morning in hopes of scoring some tomatoes, she said. It was her first time dropping by the market, which sets up each Saturday from 8 a.m. to noon in the grassy area near Reece & Nichols at 155th Street and State Avenue.
"I've seen the sign but driven past it," Sedlock said. "I just figured I'd support local people."
The tomatoes from Nick's Veggie Farm were gone — you'll have to come by early for those — but Sedlock, who lives south of Basehor, bought some onions and red potatoes.
After Sedlock left, nearby vendor Lynn Paul said the farmer's market's future might depend on more customers doing what Sedlock did: discovering that there's more than just tomatoes there.
"There are other good things here," Paul said, "if they would come see what we have."
The Basehor market has grown considerably in its second year of existence, vendors say, but years of further growth remain necessary for it to become entrenched in its community like markets in Leavenworth, Lawrence, Olathe and other nearby cities.
Basehor resident Joe Nick, whose Nick's Veggie Farm is the primary purveyor of produce at the market, said he'd watched farmer's markets grow from the ground up before. It's something that takes time, he said.
"It takes years to get a market going," Nick said.
Nick sold vegetables at the Olathe farmer's market for 18 years, he said, and it took several years for it to develop a steady stream of customers. He's also sold at markets in Overland Park, Merriam and Shawnee, he said.
This growing season, he decided to stick with his hometown market despite a smaller pool of customers, in hopes that he could help it grow as those other markets had before.
"I felt this is where I belong," Nick said.
He said he had faith that growth would happen, in time.
Carla Crawford, who as director of the Basehor Historical Museum Society helps organize the market, said the market's customers had already nearly doubled compared to last year, largely because of a move from Basehor City Park to the more visible new location along the highway. The market raises funds for the museum society from fees paid by the vendors.
"This year has been phenomenally better with the new location," Crawford said.
Earlier this summer, the market was attracting about eight vendors each week on average, she said, though that number has fallen off in recent weeks. The addition of Nick's produce stand has given the market an anchor, she said.
"He's like a whole produce department from a grocery store," Crawford said.
Also new this year are monthly visits from Kansas State University Research and Extension Master Food Volunteers, who set up a table to provide visitors with recipes and suggestions for what to do with the fresh ingredients available at the market. They come to the market on the final Saturday of each month.
Saturday, volunteers Donna Kindle of Basehor and Carol Mullen of Leavenworth handed out samples of veggie pizza and peach muffins. They hope to help visitors unlock the potential of the farmer's market to help them form healthier diets, Kindle said.
"They don't see 'healthy' as being 'good,' always," Kindle said. "We're hoping we can make low-fat not such a bad word."
Mullen said the Leavenworth Farmer's Market, where the Master Food Volunteers also visit monthly, required several years of slow growth before it became established.
"The Leavenworth farmer's market started out relatively slow," Mullen said, "so I think this one can grow, too."
Vendor Lynn Paul, who has appeared at all but two of the Basehor markets this year, sells baked goods and handwork. Paul said the market's customer base had grown quite a bit during the year, though it has slowed as the end of the season approaches.
Visitors were sparse in the spring, she said, which created a feeling for vendors that she likened to how a football team might feel if it practiced all week and then played a game in front of no spectators. But in June, crowds started to pick up, she said.
"Once they come, they make it a habit to come every week," Paul said. "And it has to be a habit in your life to get yourself out of bed and to the market."
Doug Conrad of Basehor said he stops by the market most weeks and always finds something useful to buy. On Saturday, he bought some cucumbers from Nick's Veggie Farm as well as some citrus marmalade and a tie-dye T-shirt from Kim Franke of Basehor, who produces jellies and jams as well as eggs and butter at Real Trail Farm.
"I prefer to leave my money here as opposed to Walmart or Price Chopper," Conrad said.