'

Geeks' on display at Basehor Community Library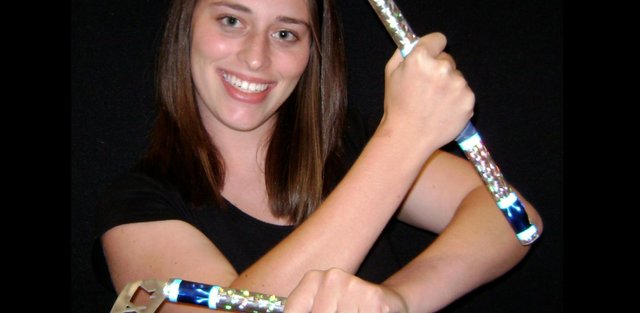 'Geek' anything?
To share what it is you "geek," stop by Basehor Community Library with whatever thematic props you'd like for your photo, come to the circulation desk and ask to be on a poster.
Photo Gallery
Basehor Community Library 'Geek' posters
A sample of the Basehor community members featured in posters for the Basehor Community Library's "Geek the Library" campaign.
Erryn Alvidrez has gotten the questions a few times this summer while working at the front desk at Basehor Community Library.
Visitors wonder why she's on a poster hanging on a wall opposite the desk, what are those weapons that she's wielding in the photo, and what is the meaning of the phrase below the photo: "I geek martial arts."
"They're surprised, because they wouldn't expect shy and sweet me holding weapons," Alvidrez said.
Diana Weaver, the library's director, counts herself among those surprised to see her mild-mannered library assistant holding a pair of scythe-like sticks. But then again, people's interests can be surprising and illuminating, she said.
That's a big reason why the library is putting a local spin on a national campaign called "Geek the Library," developed with help from the Bill and Melinda Gates Foundation. The campaign focuses on using the word "geek" as a verb, Weaver said.
"What you 'geek' is what you love, what you're passionate about," Weaver said. "For me, it's bird-watching."
The idea behind the campaign is that no place is better for people to find ways to "geek" something than the public library, Weaver said.
"We want to make sure that, No. 1, we have resources for people who 'geek' things," Weaver said. "You know, if somebody 'geeks' beekeeping, we want to make sure we have beekeeping books and stuff."
To help accomplish that goal, the library has asked patrons and Basehor-area residents to let the community know what it is they "geek," through a series of posters hanging on the wall near the library entrance and displayed on the library's website, basehorlibrary.org.
The posters have drawn the attention of patrons since the library began the campaign in June, Weaver said. Visitors can discover that Basehor Police Chief Lloyd Martley is into running, that Glenwood Ridge Elementary School teacher Cindy Pruitt is a University of Nebraska football buff and that elementary librarian Cyndi Kenton loves Jane Austen books.
"Everybody's passionate about things," Weaver said. "Who knows why? They just are."
Displaying those passions, in addition to raising awareness of the library's usefulness, also provides the library clues as to how it can better serve its patrons. Weaver said the library plans to schedule events and order resources to cater to patrons' "geek"-ery.
At Basehor Dairy Days in June, library staff asked visitors about what they "geeked," and after one person said he was into the "Star Wars" films, the library scheduled an event for the fall involving a Kansas City, Mo., group that dresses up as "Star Wars" characters.
The posters are also entertaining for patrons, Alvidrez said.
"They ask what it is, and they're interested in what people in our community 'geek,'" Alvidrez said. "And they like seeing faces that they know."
The weapons she's holding in her poster, she said, are kamas, scythe-like Asian farming tools also used in martial arts. She is a former student at White Tiger Tae Kwon Do in Basehor.
That's an answer she's had to give to many puzzled patrons. Weaver said those sorts of questions showed that the campaign was accomplishing its purpose.
"That's what it's all about, generating a conversation," Weaver said.