Leadership, special teams key for
BLHS

 against Piper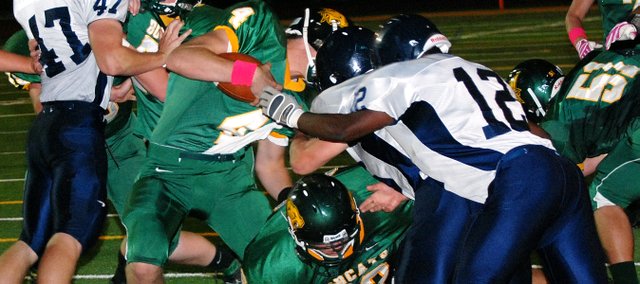 Entering the 7 p.m. Friday season-opener at Piper, Basehor-Linwood football coach Steve Hopkins likes his veteran leadership.
Hopkins said he likes the overall leadership he's seen from the Bobcats, and he has been extremely impressed with the collective effort and leadership of the upperclassmen during practices early this season.
BLHS coaches have identified a group of eight veteran players that are in the running to be captains for 2011. Each has led his position groups this season.
The eight under consideration are Jesse Hiss, running back and linebacker; Colin Murphy, quarterback and defensive back; Ryan Murphy, tight end and wide receiver; Trevor Hickman, offensive line; Ben Johnson, tight end and defensive end; Alex Shewmon, offensive and defensive line; Drew Potter, outside linebacker and running back; and Dalton Mellies, linebacker.
"They have led us in almost every drill, whether it is running 110-yard sprints for conditioning, to tackling drills, to passing and defending the pass, as well as blocking and pass rushing," Hopkins said. "This group of eight young men — plus others, but especially this group — has taken charge of our team at this point, and younger athletes are truly mentored by them."
With leadership in tow, the Bobcats are ready to play a game. It has been a long nine months since last season ended.
"What a great first game against a team like Piper," Hopkins said. "We are ready to test ourselves against another team and not just each other. Consequently, both teams will probably make mistakes early on just from being so excited, but we will play hard and we hope to make our mistakes at full speed."
Hopkins understands the techniques will come and that a lot of teaching occurs as a result of the first game.
One area of emphasis entering the first game has been special teams. Piper has a talented kicking and return game, and Hopkins said his players have worked diligently in practice to prepare for it.
"We really were poor here against them last year on special teams and that made field position a nightmare, so it has been a huge focus so far," he said.
Piper has a new coach this season. Chris Brindle replaces Tom Radke, who took the head job at St. James Academy. Brindle was Piper's offensive coordinator the last two seasons and helped orchestrate its spread offense.
On defense, Piper's interior might be the strongest in the Kaw Valley League.
"Their interior with Caleb King, Julian Cole and Brandon Fahnestock is as good as it gets, but I am sure they have many other good players that we will have to block also," Hopkins said.
As for keys to the game, Hopkins said the team that performs the fundamentals better will win the game.
"As simple as it sounds, we will need to block and tackle better than they do, but even more so early in the season," Hopkins said. "Both teams I am sure will have a limited number of plays, stunts on defense and coverage as we are just trying to be simple and sound early in the season."
During the offseason, Basehor-Linwood often discussed ways to replace Caleb Johnson and other talented linemen. Early in the year, Hopkins said his defensive line was progressing nicely and his offensive line also was making strides, though injuries have slowed the team and forced them to move players to different spots.
"I do feel like we are making progress on the offensive line, and yet we have had a couple of key guys slowed by injuries, so we are not quite sure of the starting group," he said.