Tonganoxie soccer scores late against
BLHS

for 1st 'W'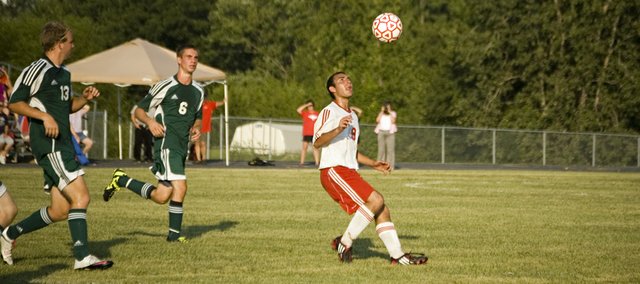 Photo Gallery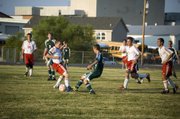 Tonganoxie soccer defeats BLHS
Tonganoxie High's boys soccer team got its first win of the season with a 1-0 shutout against Basehor-Linwood.
The Tonganoxie High boys soccer team already had dealt with the disappointment of a tie and a loss at home this season. Thursday night the Chieftains secured the result they had been chasing — a win.
With a score in the final minutes of the second half, THS earned its first victory of the season with a 1-0 shutout of visiting Basehor-Linwood.
More than 70 minutes into a scoreless match, Will Bond received the ball in the far corner on a cross, possessed the ball against a Bobcats defender and put a pass in front of the goal, where senior midfielder Tyler Bartholomew was waiting. Bartholomew briefly hesitated before knocking it past BLHS goalkeeper Russell Clark and into the net.
The center-midfielder said the Chieftains (1-1-1) had to take initiative late in the match to secure that elusive goal.
"We just took the opportunity and made the best chance of it," Bartholomew said. "It was awesome."
The score was just the second goal of the season for Tonganoxie. THS had gone more than 240 minutes of playing time without a goal before Bond found Bartholomew for the game-winner.
Chieftains goalkeeper Keaton Truesdell complimented the defense in front of him for making the win possible.
"They played great," the junior keeper said. "They were the reason for our success."
The victory provided Truesdell with the best of both worlds, because Tonganoxie got its first win and he got a shutout.
"Even if we win and I get scored on, I still go home mad," he admitted.
At 6 p.m. Tuesday, the Chieftains play their first road match of the season at Atchison.
Basehor-Linwood (0-2) next plays at 6 p.m. Tuesday at home against St. James Academy.