10 years after 9/11, Basehor resident recalls staying home from Pentagon that day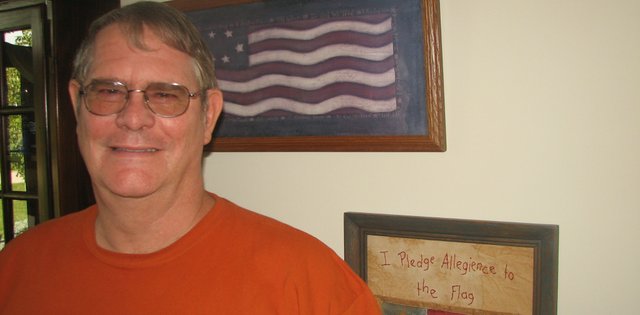 Read more
More coverage of the 10th anniversary of the 9/11 attacks:
• A man remembers watching the World Trade Center attacks unfold from the roof of his apartment building.
• A Tonganoxie woman looks back at the loss of her nephew on 9/11.
• A rural Leavenworth County woman explains the quilt she made in tribute to the victims of 9/11.
If it had happened just a few days earlier, Dan Stueckemann might have been there.
Stueckemann, a Navy lieutenant commander, had been assigned to the Pentagon for about two months by September 2001. One day early that month, he visited the Navy Command Center on the first floor of the Pentagon's western side, where he would occasionally attend briefings.
A few days later, on the morning of Sept. 11, Stueckemann happened to be working from home. He would find out later that day that the nose of American Airlines Flight 77 had crashed right into the Navy Command Center, killing 29 of the 30 people working there.
"I didn't even have the TV on, or anything else, and didn't even know about it or what happened in New York until I got a phone call wondering where I was," said Stueckemann, now a Basehor resident.
That call was from an officer at the Pentagon taking a head count. Because of problems with communications networks, it would be hours before his wife Cathy or any other family members — who didn't know that Dan was at home — could reach him to make sure he was all right.
"When we finally did talk, they'd been trying for hours to get ahold of me and stuff," Stueckemann said. "So when they did, it was quite a bit of relief."
Stueckemann said he knew several of the naval officers who died in the command center, though the one he knew best was the lone survivor, Lt. Kevin Shaeffer, who lived despite severe burns, according to Navy.mil. Some of his children's classmates lost parents in the attack, he said.
When he came back to work a few days later, Stueckemann said, he returned to a different world. No longer could he get off the subway directly under the Pentagon and take an elevator up; for months, because of new security requirements, he had to take a long walk outside, through parking lots and bus stations and in a side door.
Though 125 people working in the Pentagon had died, he said, the mood in the building was not somber or mournful in the days following Sept. 11. Rather, people were motivated and driven to work together.
"Everybody was more focused on, 'We're going to get the job done, and we're going to find the guys that did it,'" Stueckemann said.
They were bolstered, he said, by waves of support from the rest of the country, in the form of flags, banners, signs and other mementoes sent in every day. For about a year after the attack, he said, the halls of the building were lined with symbols of good will.
"The Pentagon is a huge building, and the walls were just covered with more and more stuff every day," Stueckemann said. "You walked the hallways, and it was almost like its own little museum."
Stueckemann's assignment at the Pentagon, he said, was part of an internship-like program in which he would observe the operations in different offices. The assignment was up by July 2003, after two years there. He decided to retire from the Navy then, after a 28-year career. In 2005 he and his wife — both natives of Kansas — moved into their home south of Basehor, which has since been annexed into the city.
He said he was struck by the sense of urgency and unity he saw among the leaders at the Pentagon and felt among the American public at large. And now, he said, he looks at a divided, contentious nation and wonders where that feeling went.
"Everybody was certainly focused, of one mind," Stueckemann said. "It was like you could get anything done. Between now and then, it just seems to have fallen all apart."
Even if that sense of unity has faded, he said, he still sees constant reminders of the changes brought about by that day, and of how close he was to it all.
"There's a saying in the military that you're always fighting the last war," Stueckemann said, "and it certainly feels like that every time you go through TSA security."
One thing he does not dwell on too much, he said, is that he had been at the site of the Pentagon attack a few days before and could have been there again had he not been working from home that day. He chalks it up to luck, he said.
"There's always that 'What if?'" Stueckemann said. "It just wasn't my time."