New venue, other changes on tap at AutumnFest 2011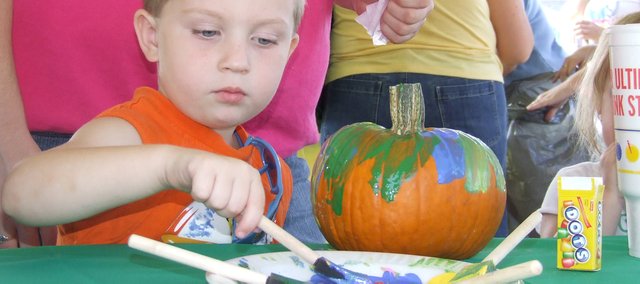 Photo Gallery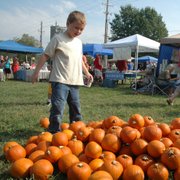 Edwardsville AutumnFest
The Edwardsville AutumnFest festival was Friday, Sept. 17, and Saturday, Sept. 18. The event included a parade, games, barbecue contest, live music and a pumpkin painting contest for kids.
Those attending AutumnFest this year will see some changes.
The annual festival in Edwardsville, now in its 22nd year, will be in a different location this year and will also offer more live music and attractions.
AutumnFest 2011 will take place Sept. 16 and 17 near Edwardsville City Hall, 690 S. Fourth St. Past festivals have been on the grounds just north of Mac's Place.
This is the first year the carnival portion of the festival will be open both Friday night and Saturday. And this is the first year for live music both nights.
"We thought that Friday evening would be a nice time to have something going on … it's a community event and we've been very proud that we've been able to keep it that type of event," said Phyllis Freeman, chair of the AutumnFest planning committee.
Check-in for the Kansas City Barbecue Society-sanctioned barbecue competition will be at noon Friday, Sept. 16, at City Hall. There are 20 teams registered, with more expected.
Festivities will officially kick off at 5 p.m. Friday, when carnival rides and games are opened to the public. The carnival will continue until 9 p.m. Friday. At 7 p.m., Low Jones will take the stage.
"They play the old favorites, rock and roll, just a few pieces of country and pretty much what the mainstream is listening to right now," Freeman said of the band.
Saturday events kick off with the annual Mayor's Prayer Breakfast at 7:30 a.m. at Edwardsville Elementary School, 1700 S. 104th St. Featured speaker will be Bob Maile, retired superintendent of the Kansas School for the Deaf and an ordained Community of Christ minister. Tickets are $10 each, and are still available from any Kiwanis Club member.
The carnival will open at 9 a.m. Saturday, when the crafter booths will also be set up and open for business. The carnival will continue until 7 p.m. Saturday.
The AutumnFest parade will be at 10 a.m. Saturday , beginning at the intersection of Ninth and Blake and then continuing down Blake to Fourth Street. It will then travel south to River Falls Road and continue east on River Falls road to end back up at Ninth Street.
At 11 a.m., attendees will have the chance to sing their hearts out during the annual Edwardsville Idol competition. A live DJ will be on hand to play accompaniment to any song requested by a participant. Participants will be called onto the stage one at a time to sing, and then each participant will receive a free T-shirt. Freeman said the event drew between 75 and 90 people last year.

At 11 a.m. Saturday, youths can participate in the Bank Midwest-sponsored pumpkin decorating activity.
Judging for the barbecue competition, as well as the annual pie, chili and salsa competition, will be noon Saturday, with cash prizes given to first-, second- and third-place winners. The awards ceremony will be at 5 p.m.
From 6 p.m. to 10 p.m., Edwardsville Elementary will play host to its annual bingo game. Cards can be purchased for a $2 donation.
"(Proceeds) go back into the school to sponsor some of the activities that were cut from the budget, so the children benefit from the bingo," Freeman said.
At 7 p.m. live music starts, with Kiss cover band, Almost Kissed, taking the stage. Headliner Slow Cousin Walter, which Freeman said would play lots of country music, will play at 8 p.m.
Wristbands allowing access to all the carnival rides can be purchased for $15, which covers Friday night and all day Saturday, or $10, which only covers all day Saturday. Wristbands can be purchased prior to the event at Edwardsville City Hall, Bank Midwest, 110 S. Fourth St., or Edwardsville Mobile Home Village, 301 Beach St. They can also be purchased on-site during the festival.
The city of Edwardsville, Bonner Springs-Edwardsville Area Chamber of Commerce and several area businesses are joint sponsors of AutumnFest.