Two landowners put brakes on Leavenworth County's plans to pave rural road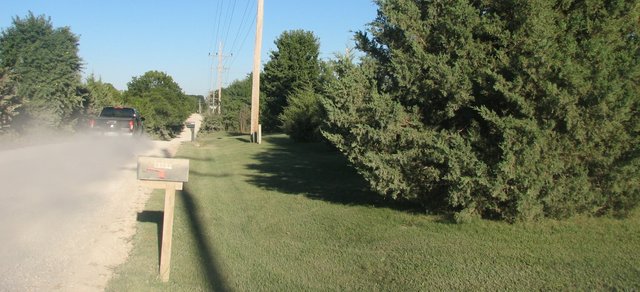 A group of residents in southeast Leavenworth County stands to receive something for which other neighborhoods have paid thousands of dollars: a paved road. They wouldn't have to pay a dime.
But that doesn't mean it would be free, Don Smith says. For him, it would likely come at the cost of his seven cedar trees, trees that he dug up from his mother and late father's property and moved to his own, trees that he watered every day in their infancy, trees that he planted just more than 20 feet from the center of Metro Avenue because he knew that the county couldn't touch them.
That's why, to the frustration of some of his neighbors, Smith is one of two property owners along a stretch of Metro Avenue west of Bonner Springs who are blocking Leavenworth County's offer to chip and seal the gravel road for free, a project that would cost the county an estimated $500,000. All that would be required of the 14 property owners on the stretch of road is to cede of an extra 20 feet of easement to the county for construction purposes.
That extra 20 feet would put Smith's trees in jeopardy. And for him, that's too high a price to pay.
"I know it's only 20 feet," Smith said. "But it's my 20 feet."
The seeds of this situation, pitting neighbor against neighbor, were sown about two years ago, in April of 2009, when Leavenworth County created its participatory road program. The program aimed to devote more of the county's public works resources toward actually building and repairing roads, rather than purchasing right-of-ways from property owners, county public works director Mike Spickelmier said.
The program allows for the county to chip and seal stretches of gravel roads at the top of its list of road improvement priorities at no cost to residents. But 100 percent of the property owners along the road must agree to donate the necessary easements for the county to perform construction.
A stretch of Metro Avenue between 158th and 150th streets, about 0.6 of a mile long, is at the top of the county's priorities list because of the roughly 400 cars that travel on it every day. And 12 of 14 property owners have agreed to donate their easements — but until the other two agree, the project is on hold, Spickelmier told county commissioners at their Aug. 25 meeting.
"We're being held hostage by the minority," Metro Avenue resident Ernie Arnold said to the commissioners that day.
Arnold said after the meeting that he worried about the road's safety and was annoyed by the constant cloud of dust that hangs in the air around it.
"Gravel roads are always unsafe at best," Arnold said, "and this is narrow and hilly on top of that."
Resident Donna Schneck has lived with her husband Merle on the road since 1980. For about eight years, she said, she and some other residents have made requests to the county for the road to be made hardtop.
"We've been working on it for a long time, and then our turn finally comes, and two people decide they don't want to sign," Schneck said.
She said that she and her husband would likely lose a number of hickory trees on their property in the construction, but she was willing to give those up to get rid of the ever-present dust and to make the road safer for families from neighborhoods to the east that use the road to take children to Basehor-Linwood schools.
"We'd stand to lose a lot, but for the general good, it's probably worth it," Schneck said.
But the way Don Smith sees it, he's being asked to give up a piece of his personal property — and trees he worked hard to grow and maintain — for no compensation. And many of the people whom the project would benefit, those who live to the east, would not be asked to give up anything at all, he said.
"That just didn't seem like a very good deal to me," Smith said.
The other property owners who have not agreed to donate the additional easement — Jeffry and Paula Eveland, according to county records — did not respond to the Sentinel's attempts to contact them.
At the Aug. 25 county commission meeting, Arnold, Schneck and other residents asked the commissioners about the possibility of a benefit district, in which the property owners along the road would pay for a portion of the improvements through an annual assessment on their property taxes. The commissioners said the county would contribute labor and equipment if the residents would pay for materials and other costs, but that arrangement would still leave the residents on the hook for an estimate of roughly $300,000. If apportioned equally, that would leave each resident with a bill of more than $20,000 to be paid during the course of 10 years.
Arnold and Schneck both said they'd be willing to pay that price.
For the county to establish a benefit district, residents would need to submit a petition with the signatures of at least 51 percent of the affected landowners representing 35 percent of the land, or vice versa. The unwilling landowners would still be forced to pay the bill, though they would be paid for their easements.
Smith said he thought the pursuit of a benefit district was meant to convince him to agree to the cheaper participatory plan.
"I think that's a little bit of trying to put a little pressure on me," Smith said.
And that isn't the first time he's felt pressured, he said. Neighbors have repeatedly asked him to agree to donate the right of way.
But he said that didn't change his position that if he hands over part of his property for the county to use, he should be compensated.
"Once you give that up," Smith said, "you never get it back."