Volunteers flock to Holy-Field Winery in Basehor to help harvest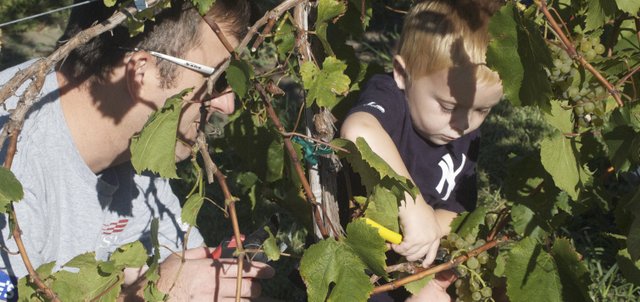 Photo Gallery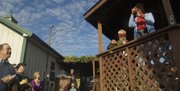 Harvest 'Picking Sunday' at Holy-Field
Volunteer harvesters helped pick grapes at Holy-Field Vineyard and Winery in Basehor at one of the winery's "Picking Sundays" on Sept. 4.
Early on a cool, sunny September morning, a crowd of about 150 people gathers on the edge of the 16-acre Holy-Field Vineyard and Winery grounds in Basehor. They're here to provide free labor.
Michelle Meyer admits that when you put it that way, Holy-Field's annual volunteer harvest "Picking Sundays" might sound a little fishy.
"A lot of people think I'm pulling some kind of scheme or something," Meyer said, laughing.
But that's not quite the truth, said Meyer, who owns the vineyard along with her father, Les.
Yes, it's true that she and her father, the lone field workers at Holy-Field for most of the year, could never pull off the fall grape harvest on their own. But the throngs of volunteer harvesters, in addition to allowing the Meyers to pick their grapes quickly enough to mash them while they're still fresh, get a great time out of it. They must, anyway, because so many of them come back, she said.
"I've had people that have been coming forever," Meyer said. "I have people that come every single year. I have people that come every single weekend."
Many of those harvest veterans were out among the vines tossing grape clusters into buckets on Sunday, when the pickers combed the vines for white Melody grapes, used to make Holy-Field's wine of the same name.
Kevin Holy of Overland Park said he'd come out to the harvest every year since 1999, coming out with different groups of family members numbering as many as 15 people (and no, Holy is not related to the winery's owners in any way).
Each year, he said, he and his siblings gather at his mother's house after the lunch that concludes the harvest, where they sample Holy-Field wines.
"We come out just to have fun," Holy said. "The food is great. Then you get a free T-shirt, and you spend $50 on wine."
John Fiore of Eudora said the Holy-Field harvest had become a tradition for his family, as well. Family members from Minnesota and South Dakota come down for the event each year.
"It's definitely a unique experience that you don't get in many places," Fiore said. "And the food at the end and good wine doesn't hurt, either."
By his side, Fiore's 3-year-old daughter Miranda furrowed her brow in concentration, focusing on a cluster of grapes hidden within the vines as she wiggled her shears into position. The first time the family came to the harvest, five years ago, she was still "in her mama's belly," Fiore said.
"It's good to show the kids where food comes from," Fiore said.
Brothers Evan and Adam Mack of Shawnee, ages 5 and 3 respectively, were also enjoying themselves as they angled for the best grape clumps to snip, their mother Kristy said.
"I'm good at picking!" Adam proclaimed as he threw a cluster into his bucket.
Meyer said children were often quite enthusiastic about the harvest.
"I've watched a lot of little kids come out here year after year and grow up," Meyer said.
Amy Cline of Wichita visited Holy-Field for the first time Sunday. She and a friend from St. Louis were looking for an attraction between their two homes where they could meet, and they found out about Holy-Field's "Picking Sundays" online.
"It's just a pretty day and a chance to have fun with my friend," Cline said. "It is kind of fun to see the origin of the process. I certainly enjoy the end result, so I might as well participate in the origin."
Meyer said that the sense of participation and opportunity to learn about the wine-making process provided by the harvests made it a great experience for many volunteers — along with the free lunch that comes afterward.
"It gives people pride in something local," Meyer said. "It gives them a lot of ownership in something they enjoy. And then later they can come back and get their wine and say, 'Hey, I helped with this.'"
The harvesters collected about four tons of grapes on Sunday, Meyer said, enough to make about 600 gallons of wine. Altogether this fall, she and her father expect to harvest about 45 tons of grapes, she said. The Melody wine produced from the grapes picked Sunday should be on sale by about Thanksgiving.